Phew, well that's Mother's Day out of the way.  Valentine's Day is already a faded memory and Christmas – when was that?  However, along with Father's Day looming, wedding season is around the corner and if you're nearest and dearest are as thoughtless as mine, mid-summer will see an apparently unending series of birthdays.  The constant need to come up with new and refreshing birthday gifts ideas can be exhausting and even the most thoughtful and imaginative amongst us find it hard to keep coming up with fresh ideas.  It's also easy to get things terribly wrong and although a gift should always inspire some emotional feelings it's best to make sure that those aren't anger, hatred and/or misery.  Here's how not to find that perfect gift:
Flashy, Showy and Not as Welcome as You Might Think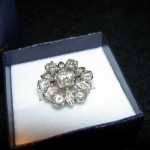 Diamonds may well be a girl's best friend but buying jewellery for the special person in your life can be fraught with difficulties.  It can also be a case of buying jewellery for the wrong reason; exactly who are you trying to impress with the flashy, showy diamonds?  If it's your partner then the motivation at least is ok, but if you're competing with your brother, mates or even boss and using your other half as a display case for your own ego then you might be the one to end up with a shiner.  Also, despite the rumors, women aren't always wowed by your over-generous spending power, especially if money is tight in your household.  While as birthday gifts go jewellery can be a romantic gesture it's often best to work with 'she who must be obeyed' and buy the piece together.
Call in the Troops – She's Done it Again (How not to Re-Gift)
The biggest sign that the season of goodwill to all men, women and children has recently manifested itself is likely to be a pile of 'stuff' in the spare room.  It may seem like the perfect way to de-clutter by re-gifting some of these thoughtful but unwanted gifts.  However, the re-gift idea is guaranteed to make you look cheap and make the recipient feel small.  Clothing as a re-gift is rarely welcome; especially if you haven't checked carefully for tell-tale things like a thoughtful personalised monogram.  In one incident that nearly required a UN peace keeping force, my mother re-gifted a gift to her from my mother-in-law.  Basically charity shops or better still eBay are the only place to re-home unwanted gifts.  In the case of eBay you can use the cash raised to buy more personal birthday gifts for the birthday boy or girl.
The Thought Does Count: Especially the Second one
Some of us are just too thoughtful for our own good.  The recent gift of some acne cream to a teenage relative by another relative who is older as expected went down like a lead balloon.  The problem was that the thought was in the right place but sometimes it's important to have second thoughts and to focus on the feelings of the person at the receiving end of your largesse.  The same principle applies when it comes to buying moisturizers and (especially) anti-wrinkle/ageing creams.  The latter are basically a firm no, while you should be sure that the recipient has been using moisturisers for years and buy the best brand you can!  Men offering certain cosmetic surgeries for their partners are usually considered to be doing so for their own benefit and therefore may as well start constructing their own dog house immediately!
Perfect and Personalized
Thankfully in the modern birthday gifts market there are more than enough options; especially when it comes to online shopping.  Personalised gifts can be a great way to make that special statement and can hit exactly the right spot when it comes to the emotions.
————————————————————————————————————————-
Pipa Rose is a freelance writer who is constantly on the lookout for great and original birthday gifts for the apparently unending list of family birthdays that we all have to deal with. She recommends buying personalised gifts to give that person something which is unique.