"Inventing" food is a difficult concept to grasp, no?  It's not like inventing something entirely new that didn't exist before, such as a telephone or shoe lace.  Humans have known for centuries what we can ingest without detrimental side effects (lobster, lettuce) and those items which either kill us or make us violently ill (rhubarb leaves, parts of the puffer fish.  Yes, puffer fish).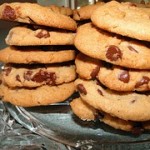 That being the case, the only method to truly invent food is either combining items to create a new dish, or developing a new way to prepare an existing edible item or items.  So here are three food "inventions" that came about under unintentional circumstances.
The chocolate cookie.  The story goes something like this…the owner of the Toll House Inn, in Whitman, MA, Ruth Graves Wakefield, ran out of the baker's chocolate she used to make her delicious chocolate cookies.  Desperate to avoid rebellious geriatric guests, she substituted broken pieces of Nestle's semi-sweet chocolate, believing that they would melt and mix with the batter.  You can guess the rest of the tale.  The chunks did not melt, and viola, accidental chocolate chip cookie and the reaction of Wakefield's guests…"Can I have some more cookies and a glass of milk please?"
Potato chips.  A disgruntled patron of Moon's Lake House, in Saratoga Springs, NY was dissatisfied with the thickness of his fried potatoes in 1853.  He had them returned to the kitchen of Chef George Crum, on more than one occasion, demanding that they be cut thinner.  Mr. Crum eventually cut them razor thin (rather than defile the customer's food) fried them, and seasoned them with copious amount of salt.  The customer, and everyone else who sampled them, then discovered that they could simply not eat just one.
The Popsicle.  An eleven year old boy, by the name of Frank Epperson, for reasons known only to him, was mixing powdered soda and water together in Oakland, CA in 1905.  He then left this mixture on his front porch, with his mixing stick still in the concoction, and it froze overnight.  He initially called his creation the "Epsicle," but changed the name to Popsicle by the time he patented his invention in 1923.  The invention of the "brain freeze" soon followed.
If not for the accidental creation of these new foods, children everywhere would now have three less items to beg and plead for from their parents (although, fried dough, soft serve ice cream and Funfetti are suitable replacements).
You could say that recipes are food inventions, too. MagicKitchen.com has come up with a few, like Chicken ana Luisa, bits of ham and artichoke heart in a cream sauce inside chicken breast, or Lemon Tarte, which is like lemony cheesecake only better. Do you have any favorite food inventions?
Steve, MagicKitchen.com blogger