It's always hard to think of fall in the dog days of August, but it's coming along. Time to start thinking of easy and healthy lunches for work and school. Our new line of complete meals is perfect.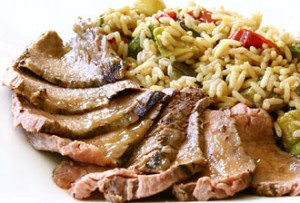 Main courses of Mango Ginger Mahi, Baked Cod with Lemon Caper Sauce, Crab Cakes, Shrimp Enchilada, Citrus Salmon, Chicken & Apple Curry, and Pepper Steak – sounds pretty tempting, no?
There's much more to choose from: Chicken In Wine Sauce, Grilled Salmon, Braised Short Rib, Baked Tilapia, Stuffed Peppers, Shrimp in Garlic Sauce and Baked Tilapia a la Mushrooms.
-Grilled Rosemary Chicken, Chili Con Carne, Pot Roast, Roast Pork, Basil Beef Stir Fry, Seared Flank Steak and Orange Glazed Pork Chops
-Chicken Marsala, Braised Beef Brisket, Chicken Pasta with Red Pepper Sauce, London Broil, Chile Colorado,Chicken Stir Fry , Roasted Turkey with Cranberry Pilaf
Go to our Complete Meals for One page to see nutritional breakdowns (Click on the individual meals). They are portion-controlled, so they fit into most healthy diets.
We're proud of these meals, we think you'll love them for fall – check them out!
Grilled Rosemary Chicken with Cranberry Dressing
Melody, MagicKitchen.com blogger