Kitchen gadgets are the best; some of us are absolutely addicted to collecting them. I remember I had a lemon zester that I loved, until someone bought me a microplane! Now my zester sits unused in a drawer. Microplanes will be my first item then, of Kitchen gadgets you just can't do without!
1.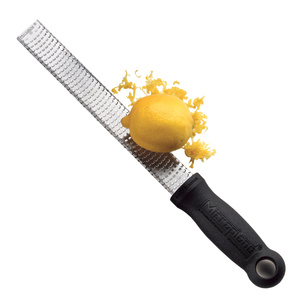 Microplane: These come in all sizes and prices. I find a mid-priced one is fine, no need to go with the Williams-Sonoma $25 model, one for $12.95 will work just as well. These little items are SHARP!! Be warned, and don't shred your fingers. They can be used for grating ginger, nutmeg, nuts, coconuts, hard cheeses like Parmigiano, fruits, vegetables, cheddar, chocolate and more!  Woodworkers will recognize these tools as fine wood rasps. There are several sizes for several jobs. Another tool that stays in the drawer in our kitchen is the cheese grater, as my larger microplane also shreds cheddar 5 times faster.  Did I measure that? no, it's just a guesstimate. But it's fast!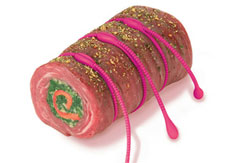 2. Silicone Food trussers – If you've ever trussed a roast, you know that it takes a Boy Scout to get all the knots tight enough. Problem solved!! These little silicone zap-straps tighten up that roast in a jiffy and are Heat-resistant to 675°F. Of course they're reusable and dishwasher safe.
3.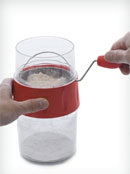 Measuring Flour Sifter – For the baker in all of us. Baking uses a lot of dishes, and sifting into a bowl, then remeasuring is a big pain in the butt. This clever device measures the flour as you sift! It measures up to 3 cups, and stops getting flour all over the counter in the process. The bottom is removable, in case you want to get flour all over the counter, say to roll out a pie crust or knead some bread.
4. Actifry –  I have to admit I've never used this, but it gets good reviews, and for a person like me who is always trying to watch my weight, the idea of  really low-fat French Fries gets my appetite going. Here's their blurb: "The T-fal ActiFry is a low fat cooker that enables you to cook tasty dishes while reducing the amount of fat you are having. The ActiFry is engineered to minimize the use of oil while cooking. This revolutionary appliance allows you to enjoy great tasting a wide array of dishes but at the same time stay healthy and feel good about what you are eating." Now, at $211, that's a pretty expensive kitchen device, but it's on my wishlist.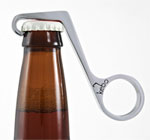 5. Kebo – This will just make you the coolest party-giver on the block. This one-handed bottle opener is one of those conversation-starters with no real practical use. You place the Kebo on the bottle-cap(pry-off only, not twist off), and give it a squeeze. How cool is that?
6. Sassafras mini-Ice Cream maker  -This is great for a couple or someone living alone who loves homemade ice cream. It makes  2 flavors at once, and only a couple of cups of each. You don't need salt, and you don't have to hand crank the maker for hours. Just add ingredients, turn it on and put it in the freezer. Two AA batteries do the rest.
7. Gravy Separator – Take any fatty liquid like the leavings from your roast or turkey, and pour it into this measuring-cup looking device.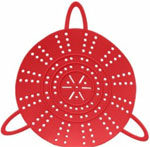 Leave it for 10-20 minutes, and the grease will float to the top. Because the pouring spout is at the bottom, you can carefully pour out the liquid, leaving the fat behind.
8. Silicone Steamer Basket – those metal steamers will scratch up the bottom of your expensive pots. I use this silicone version, and I love it.
9. Salad Spinner – So simple, but completely indispensable. It gently dries off anything leafy, so your dressings and sauces can stick to the leaves.
10.  The Potato Ricer – If you want easy, fast and completely lump-free mashed potatoes, the potato ricer is for you. In my experience though, the style on the left, below, is harder to use. The one on the right gives you a bit more leverage and requires less pressure.

Melody, MagicKitchen.com blogger