When you call the customer service line, a friendly voice will answer saying something like this, "MagicKitchen.com this is Mariel…this is Michelle…this is Greg and we will be ready to hear any questions you might have before you place an order, while you place your order, after you place your order and once you've received your order! Customer service is very important to us and we want to make sure that all of your questions, comments or concerns get addressed. Here is a list of questions we get frequently.
The Most Frequently Asked Questions of 2012
"Do you deliver to my area?"
Yes we do! If someone lives there, we can deliver frozen, prepared meals right to your door anywhere in the US, including Hawaii and Alaska!
"Will the food be alright in transit? If it will take three days to get to me, I don't want spoiled food."
It will absolutely be alright in transit! We have UPS tested packaging that will keep your order completely frozen in transit. It is shipped on dry ice that is supposed to dissipate while on its way to you so the package gets lighter and you don't have to deal with too much dry ice in your package. Whether your transit time is one or three days, you will get your food completely frozen. If you have any issues with your package at the time it arrives, just let us know.
"What happens if I'm not home to receive the package?"
If you're not home, UPS/FedEx is instructed to leave the package at your door. This way, if you are at work and come home, you will find your order waiting for you.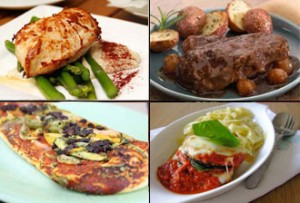 "I'm not sure what you get in a bundle. Can you explain what "Complete Pkg" means?"
Our bundles are a great and very easy way to get a variety of meals. When you see a bundle on our menu, the prices shown is for either 2 or 4 servings of each meal listed. You can order the meal with or without desserts. The "Complete Package" contains all of the meals, enough for either 2 or 4 people including the listed dessert.
The One Serving Bundles are for people who are dining alone. The entrees and sides come in separate single serving containers which make it easy to take out and heat only one serving. This is a great option for college students, active seniors and busy singles.
"Do you have a Gluten Free/Dairy Free menu?"
Our Gluten Free and Dairy Free menus are not certified, and the items may be made on shared equipment but they do not have gluten or dairy in the ingredients. We have a section of the HomeStyle Menu that will not have gluten or dairy in the ingredients. If you have any questions specifically about these menus, please call our customer service number.
"What is the average cost of a meal?"
Well, it's difficult to say. Just like a restaurant menu, it varies. We have two different menus so typically, the Special Diets Menu will have meals from $10-$14. Our HomeStyle menu has items that range from $10 a serving to $30 a serving depending on the dish and the sides you put with it. A beef dish with 2-3 sides will be a little higher in price than if you get a vegetarian item for example.
"Is shipping included in the cost of the food?"
Shipping is a separate charge that is based on the weight of the package (or how much you order), where in the country it is going and the service you select. Currently, shipping starts at $18.95. One way to get a fabulous (free) deal on shipping is if you become a regular MagicKitchen.com customer. If you place your order within 30 days of your previous order and the order is over $100, we will take care of the shipping charge for you. Just call our office to learn more!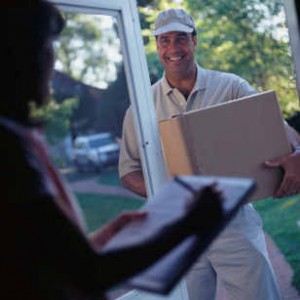 "Are you local?"
We are not local to you, but we are all around! Since we deliver to all 50 states, we have a centrally located distribution center where all of our meals are shipped out of to get directly to your door by UPS/FedEx. We do not have any stores locally and grocery stores do not carry our meals. Instead, we are a one of a kind service that will deliver frozen, hand prepared meals and meals catering to specific diets.
"Which meals are your favorites?"
I love the Eggplant Parmesan, Beef Pot Roast and the Individual Crab Cakes Meal.
Why should I choose MagicKitchen.com over going to the grocery store to buy a frozen meal?
If you go to the grocery store you will find meals that are mass produced and filled with sodium as a preservative. If you're looking for a special diet meal, you won't find products that are monitored for sodium or carbohydrates for diabetics or potassium levels for dialysis patients like ours do. Our HomeStyle menu is prepared in small batches with quality ingredients. Whether you're caring for someone, or finding meals to help your busy family come together with a great meal, MagicKitchen.com is a perfect option for you.
"I just received my order" or "I want to place an order", and [insert issue here]. Can you help me?
Absolutely, we are always glad to help! Just call our customer service line and let us know how we can help you.
Hopefully one of your questions is in here and you are now wiser and can begin or continue getting delicious, nutritious and convenient food from MagicKitchen.com. And as always, if you have any questions please give us a call at 877-516-2442.
Bon Appetit!