Yeah! The weather's fantastic, drawing us all outdoors, donning our shorts, sundresses and flip flops, and readying the Barbecue. This summer why not jazz things up a bit; check out these 12 food and Décor ideas for this summer.
1. Dress Up Your Bottles
From soda to condiment bottles to jars of pickles, you can transform these items into a part of your party's decor by wrapping them in cheerfully printed paper (wall paper or gift wrap) and fastening them together with double sided tape.
2. Anchor Picnic Tablecloths with Pails of Your Favorite Summer Flowers
Forego boring store bought tablecloth weights and make your own. All you need are your favorite summer flowers, cute little buckets, and about 1/2 inch of water. Next you simply hang them from your tablecloth with a bit of thin ribbon or a clip of some sort.
3. Light Up Your Patio with Charming Twinkle Lights
Add a bit of pizzazz to your patio by wrapping pretty summer themed lights to posts, railings, etc. You can usually find these whimsical lights at your local party or home improvement store.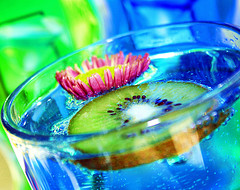 4. Create Pretty Drinks with Fresh Fruit and Flowers
Serve pretty drinks using fresh edible flowers, set out pitchers of cold water infused with fresh fruit like berries and lemon; the possibilities are endless. Everyone will stay hydrated and enjoy a fancy, enchanting drink at the same time.
5. Marinate Ahead of Time
Summer foods that call for marinating can be prepared in the morning and cooked in the evening (although overnight usually guarantees more flavor). Nothing tastes better than marinated summer foods grilled on the BBQ; think Jamaican jerk spices, hoisin glaze; makes your mouth water doesn't it?
6. Kebab This and That
Kebab's are always a favorite summertime staple, and the perfect way to serve just about anything from fruits and veggies to lamb, chicken, beef and fish. Fruit kebabs are a tasty and healthy summer snack and fun to make with the kids.
7. Refreshing Summer Salads
From vibrantly flavored Thai mango salad to juicy watermelon tossed with feta cheese and olives, we all love refreshing summer salads. Even a simple fruit salad with fresh summer berries, cantaloupe and grapes will make the perfect side to any summer entree. Let's not forget pasta salad either; who doesn't love a creamy summer salad?
8. Shrimp Cocktail
Fresh Shrimp cocktail makes a fantastic summer appetizer and you can get creative by serving them in pretty cocktail glasses. If you have time to plan ahead you can check out some thrift stores, or even your local Dollar store for inexpensive parfait or champagne/cocktail glasses (just tossing out ideas here).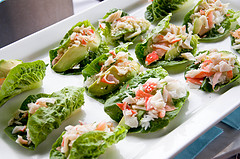 9. Lettuce Wraps
Lettuce wraps are becoming a summer food favorite and they're very versatile. You start with crisp butter lettuce and fill it with just about anything, and there are plenty of recipes online from Thai versions to spicy Southwest flavors.
10. Dressed Up Pizza
Who doesn't like pizza? This summer food idea is easy; first buy a high quality frozen pizza and add seasonal vegetables, zippy feta cheese, maybe some sun dried tomatoes, you get the picture. Best of all it makes a quick and easy meal.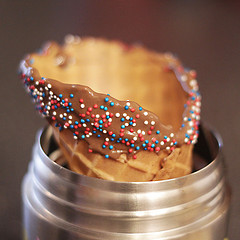 11. Easy Smeezy Sundaes
Summer is all about popsicles and ice cream. Before your summer party estimate how many cone's you'll need (Yum-Ice Cream Cones!) and dress them up before the party starts (saves time and a mess). Melt some milk chocolate, dip in the cones and roll them in toppings that you'd typically serve on sundaes like chopped nuts, coconut flakes, cookie crumbles, etc. All you need to do then is set out the ice cream in a tub of ice and voila; you have dessert; no muss no fuss.
12. Help Your Guests Keep Cool
Help your summer party guests beat the heat (and outdoor pests) by supply colorful fans, sun block and mosquito spray; very thoughtful amenities that everyone will appreciate.
Visit MagicKitchen.com for more easy summer entertainment ideas.
Cheryl, MagicKitchen.com blogger