Most Thanksgiving and Christmas dinners are family affairs, with close friends invited as well. So the table setting doesn't have to be formal, but you do want it to look nice.  Here are 8 tips for creating an attractive holiday table!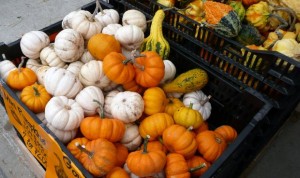 1. Centerpiece – Keep a low and simple centerpiece so everyone can see each other. A beautiful glass bowl with many-colored squashes, or filled with colorful glass balls or ornaments would be lovely.
2.  Runners – Try a white tablecloth with a brightly colored runner (plaid is great) to give the table a striking look.
3.  Chairs– Attach a bow to the back of your chairs, with the name of the person you'd like to sit there, if you have a seating plan.
4. Place settings– feel free to mix up your plates and bowls, play around with different patterns and colors. Do you have blue plates and green bowls? They might look great together!
5. Wonder where everything is supposed to go? Here's a diagram from Wikipedia. If you're not using everything, put it in the same general location and move it in!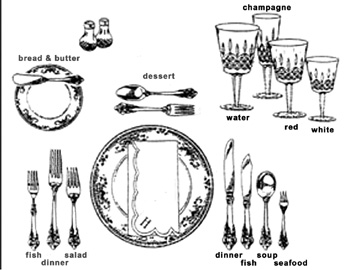 6. Napkins – There are no rules for napkin placement- lay it on the plate as above, with or without a napkin ring, or tie with a ribbon or silver or gold wire. Roll it up and put it into the water or wine glass for each place.  Or fold it in half and lay it under the fork at the left side of the main plate. If you want to get fancy, Google 'folding napkins' and fold them into fantastic shapes and put them on the main plates!
7. Color Schemes- You don't have to stick with autumn colors for Thanksgiving, or red and green for Christmas. Break out of the mold and try a table color scheme of elegant white and gold,  pale blue and silver,  deep yellow and tan,  sage green and deep black.
8. Placemats- If you have a beautiful wood table, then placemats are a good idea to keep the finish. But if serving a meal for four, a criss-crossed runner could act as placemat. have fun with placemats and napkins- same color, matching colors, colors on opposite sides of the color wheel- whatever looks like fun.
Most of all, have fun and don't stress out this holiday season! MagicKitchen.com's Thanksgiving meals delivered and Christmas meals delivered can really take the stress off.
Melody, MagicKitchen.com blogger