Goodbye to the winter blues!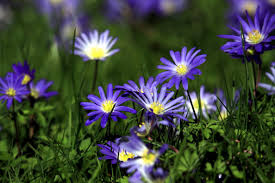 The sun is warm, there are leaves on the trees and flowers are blooming. Spring has sprung and it seems that the earth is alive again. A young man's fancy may be turning to love, but you, as a homemaker, will be entertaining thoughts of renewing your home.
Spring cleaning is a tradition which has been adopted all over the world as an opportunity to clean every corner of the house before the hectic summer season is in full swing. This practice is especially predominant in areas where winters are very cold and much time has to be spent indoors.
With the chance to once again enjoy going outdoors, comes the desire to clear the home of accumulated winter grime and clutter.
Make a list, rope in family members to help, and let the spring cleaning begin!
Where to start.
A good idea is to begin by clearing clutter from the rooms, bathroom and kitchen included, that you intend to tackle.
Make sure your vacuum cleaner is in good order.
Gather all the cleaning materials and equipment you will need. Also make certain you have a step ladder available, as well as a dusting mop with a long handle for all the high corners.
Wash all the loose rugs and spot clean the carpets before moving into individual rooms
Wash or launder drapes and blinds.
Clean all the light fittings and the blades of ceiling fans
A few more useful hints.
Bathroom. Use an alkaline cleaner such as a solution of baking soda and water to wash down medicine cabinets, linen cupboards, wash basins and fixtures. You can also use bleach for cleaning as it will dissolve acid build up on surfaces, including mirrors. Thoroughly clean the bath, shower, toilet and all the tiles.
Kitchen. Make certain all the clutter is removed from cupboard tops etc, and that all the dishes are washed and packed away. Clean the outside and inside of cupboards with a good detergent, as well as the tiles and walls where needed. Dust the ceilings and high corners. Give the stove, oven, freezer and refrigerator an extra special clean. Make sure the sink and fixtures are free of grime and acid build-up.
Living rooms. Move and vacuum all upholstered furniture. Wipe lamps and light fittings with a damp cloth, clean window sills and inside of windows and sliding doors. Spot clean and vacuum carpets. Oil or polish wooden furniture.
Remove all the books from the bookshelves and wipe dust off the covers, properly clean the shelves with a cloth. Dust TV screens and entertainment appliances, move them if you can and wipe dusty area underneath.
Bedrooms. Wash down the cupboards, inside and out. Dust in the high corners with the long-handled dust mop, clean window sills etc. Vacuum the mattresses and launder all the bedding. Open windows on a daily basis to keep bedrooms well-aired.
When you have cleared clutter from the house, don't just leave it packed into the garage.  The garage will also need clearing, so dump what is really no good to anyone, and organize a garage sale to get rid of the items you no longer have any use for.
Here's a little appropriate music, Fats Waller's Spring Cleaning!

Happy Cleaning!
Heather, Guest Blogger