Ready for a Halloween Party? Here are some easy to make appetizers to make the party extra spoo-o-o-oky. Kids like their Halloween snacks to be gruesome, the grosser the better. These are more classed-up, but still distinctly scary. Flavor without the gloop.
These first two recipes come to you courtesy of http://www.myrecipes.com/.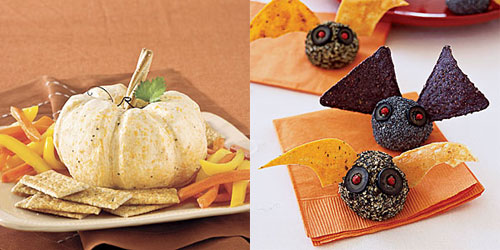 On the left is a delicious cheeseball shaped like a white pumpkin. Plenty of grown-up flavor there, with extra sharp cheddar and goat cheese. White Pumpkin Cheeseball recipe here.  On the right are Bat Bites, with two kinds of cheese mixed with pesto. Olives and peppercorns make the eyes, while tortilla chips become wings. Bat bites recipe here.
The incredibly creative Martha Stewart team gives us the next two adult Halloween snacks.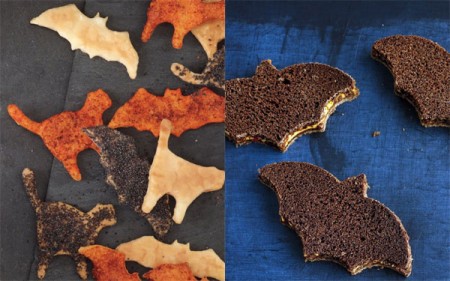 On the left, we have Scaredy Crackers, made of puff pastry. They are cut into shapes, sprinkled with spices, and baked. Scaredy Crackers recipe here. On the right are some simple pumpernickel sandwiches, cut into bat shapes. Lots of cookie cutters would be a great prep for these recipes. Or make your own cookie cutters. Bat Sandwich recipe here.
We love these two recipes. One comes from delish.com via Food and Wine, the other from Woman's Day.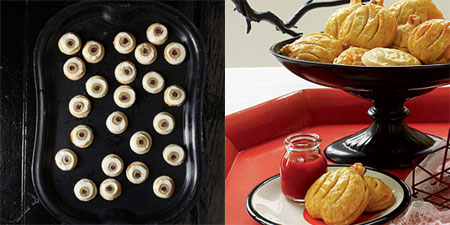 Scallop-and-Olive Eyeball Canapés on the left are a simple sea scallop mousse cut into rounds and decorated with black olives. Scallop-and-Olive Eyeball Canapés recipe here. On the right is a scrumptious looking dish, little pie-shell sandwiches with ham and good cheddar. Pumpkin Patch Bites recipe here.
We can't eat all that good food without a couple of drinks, right? Here are some perfectly ghoulish drink recipes that fit the day.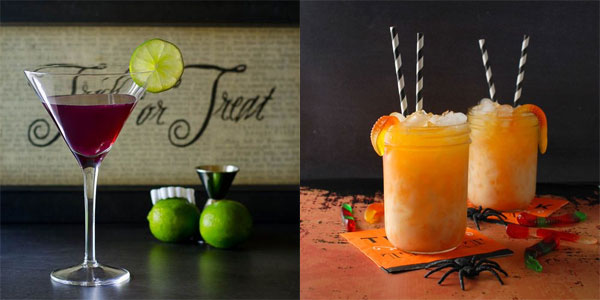 On the left is a Vampire Delight Martini from Magnolia Days. Recipe here. On the right is a refreshing Candy Corn Sipper. Recipe here.
Finally, we can finish the night with some slightly scary desserts.
On the left, OMG chocolate desserts gives us white chocolate mummy truffles, more cute than terrifying. Recipe here. On the right, cute little strawberry ghosts from Taste of Home. Recipe here.
We hope you enjoyed some of our favorite Halloween treats for adults!
Melody, MagicKitchen.com blogger.