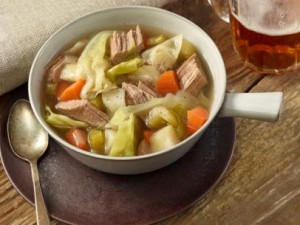 St. Patrick's Day is a day for a party all over the United States and of course Ireland, the mother country. Enjoy the day with traditional foods like Corned Beef & Cabbage, Irish Soda Bread, Shepherd's Pie or Irish Stew. We all know (Or can imagine) what Corned Beef and Cabbage tastes like, but the other dishes might perplex a few readers. Irish Soda bread is a dark quick-bread (meaning using no yeast or other leavener). It has whole meal flour, porridge oats and lots of butter and buttermilk, along with the soda.
Shepherd's Pie is a classic dish all over the British Isles. Lots of veggies,ground beef or lamb, stock, flour and a bit of red wine, all covered in mashed potatoes, and baked until golden and bubbly. Irish stew uses lamb or mutton,  along with potatoes and barley for a very hearty dish.
I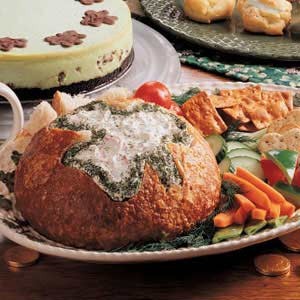 f you're not in the mood to throw together a whole feast, here are some smaller recipes that will work just as well. Reuben Braids are the brain child of Kellie Mulleavy, Lambertville, Michigan. What a fabulous and easy way to emulate corned beef and cabbage!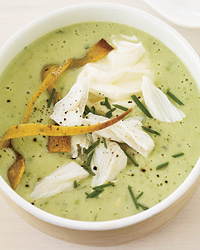 Nancy Citro's Emerald Island Dip recipe gives us an easy dish with a wonderful presentation. The shamrock cut-out is perfect for an Irish-themed party.
Chilled Avocado Soup with Crab is just green enough to be pertinent, and definitely delicious enough to be devoured.
Savory cheesecakes like  Pesto Swirled Cheesecake from Elizabeth Jackson, Portland, Oregon, are delightful appetizers, and this one has the requisite green as well as being creamy and divine.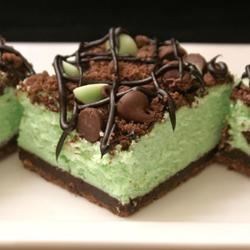 Ready for some dessert ideas? St. Patrick's Chocolate & Mint Cheesecake Bars are decadent, creamy, and decidedly green.
Shamrock Milkshake Cupcakes fit the bill, and you can serve them in green cupcake liners.
Last but never least, Martha Stewart, the queen of cuisine, has this dessert recipe to offer:
Lime Squares with Pistachio Graham-Cracker Crust.