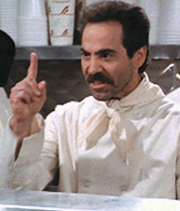 The Soup Nazi, of Seinfeld fame (season 7, episode 6 for those in search of a good laugh), was notorious for keeping his soup recipes secret…well, that and being quite rude and banning those customers who didn't follow his regimented and Nazi-like rules while in his establishment (Elaine was famously banned for an entire year). We here at MagicKitchen.com are not so secretive regarding the keys to cooking soups that burst with flavor and keep your friends and family returning to your pot for more. After all, we make these types of soup everyday! So, here are a few ideas that are guaranteed to get that…"Mmmmm, what's in this?" reaction.
Wow, I coulda had a V8. Use V8 instead of plain tomato juice if the recipe calls for it. And use it in addition to canned or fresh tomatoes. The fact that V8 also incorporates other veggies, aside from tomatoes, will kick your soup's flavor up a notch.
Throw in those cheese rinds. Especially Parmesan or pecorino rinds as they will add a depth of flavor to your veggie soups or minestrone. Some rinds will simply dissolve in the heat. If not, you can either remove them prior to serving, or chop them up to add a bit of chunky texture to your soup.
Use those shiitake stems…no bull. They will infuse your veggie or broth-based soups with an aromatic, earthy flavor. Just be sure to remove them before serving as they're a bit too fibrous to eat.
Use more than just chicken in your chicken soup. Toss in some complimentary sweet or spicy sausage or even some crispy duck to get rave reviews. In terms of herbs, add a bit of lemongrass or curry powder depending upon your preference.
Add the greens last. Soup greens are meant to be crisp and tender rather than dull and gray. In order to achieve that, add the kale, chard, broccoli or any other green as your soup cools prior to serving.
Soup Bundle from MagicKitchen.com

Cook the pasta separate. Pasta will suck up the flavor and liquid of your stock, spices and herbs. Therefore, cook it separate, al dente style, and add just before serving.
Or, if you're pressed for time, you could have some delicious, flavor-full soup delivered to your home. Just browse our varied selections and pick your favorites…and we promise never to ban you or scream, "No soup for you!"