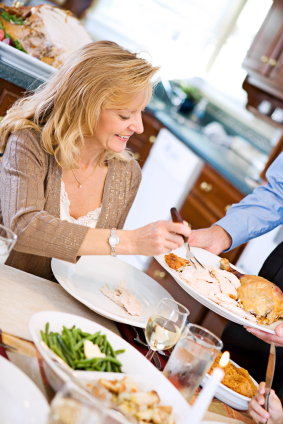 If you're in charge of the big meal on Thanksgiving Day, you've got a lot to worry about. Planning and grocery shopping alone can take hours, especially when you add up the amount of time you'll spend traveling to the store and waiting in line. And when it's time to start heating things up in the kitchen, you can expect cooking the turkey and all the other dishes to take most of the day. Sounds like a lot of work, doesn't it?
If you'd rather enjoy more of this national holiday with family and friends than stress out over baking times, obscure ingredients, and a last-minute dash to the store, you can. And you can still celebrate in style with moist, mouth-watering turkey and ubiquitous side dishes like mashed potatoes, cranberry orange sauce, buttered carrots, pumpkin pie, and more.
Leave the Cooking to the Professionals
If you really want to celebrate Thanksgiving Day with a tasty and stress-free meal, leave the cooking to the MagicKitchen.com chefs. Our professional chefs have invested hours of cooking, taste-testing, and perfecting the most popular Thanksgiving dishes and made them available in family-sized packages, and dinner for two, along with 18 al a carte options to build your own Thanksgiving meal just the way you want it. It's also a great way to supplement your menu, if your guests include people with special dietary needs.
Among the many offerings available in our selection of Thanksgiving meals, you'll also find favorite foods like 9 Grain Rolls, French Bread, French Green Beans with Mushrooms and Cream Sauce, sweet potatoes, and gravy. And the choices don't stop there. In less than 30-minutes, you can pull a hot pie from the oven. Choices include pumpkin pie, Dutch apple pie, and raspberry rhubarb pie, all available in two different sizes.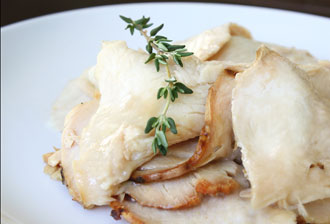 Serve a Stress-Free Thanksgiving Meal
If you've been dreading the fact that it's your year to host the big meal on Turkey Day, and would rather enjoy the time visiting with family and friends than stressing out in the kitchen, you can. Let us help you, and you'll realize that serving a tasty and healthy Thanksgiving meal couldn't get any easier. Just pick out what you want to eat, and leave the rest to us. There will be plenty to eat, so you'll even be able to enjoy leftovers for another day.
Order Thanksgiving Meals online >>