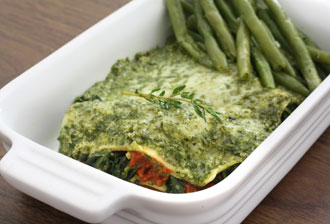 There's no doubt that frozen foods are some of the most convenient foods on the planet. But if you're eating healthy,  you have concerns about eating them. Here are the top ten healthiest frozen foods on the market.
1. MagicKitchen.com – Our meals are made by hand without preservatives, and we show the nutritional panel on each product page. We have categories for Diabetic, Dairy Free, Gluten Free, Low Carbohydrate, Low Cholesterol, Low Fat, Low Sodium, Vegetarian in our HomeStyle menu. We also feature our MK Special Menu Meals, which are complete meals especially created by our chefs for the convenience and health of those on special diets. Our choice, ease of purchase and customer service make us the best website to buy from. Our meals give us the honor of being the healthiest frozen meals around. Customer reviews >>
2. Edamame – . They're low in fat and calories and high in protein, fiber and almost every other essential vitamin and mineral. Heat them per instructions, toss with a little sesame oil and soy sauce, and you have a terrific snack.
3. Brown Rice has the whole grain, nothing taken away but the hull, so it's way better for you than white rice. You can buy it frozen, which eliminates the usual 40 minute cooking time. It's nutty and chewy and really good!
4. Trader Joe's Vegetarian Masala Burger reportedly is very healthy. I can't say I'm a big fan of vegetarian burgers, but I guess if they disguise the taste in some masala spices…
5. Jennie-o Frozen Turkey Breast Tenderloins – these aren't heavily processed, are lower in sodium, and very lean.  You can get recipes here.
6.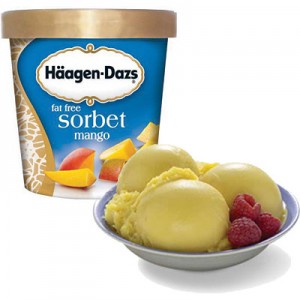 Häagen-Dazs Mango Fat Free Sorbet – No fat, people! That doesn't mean you can eat the whole container, but a half a cup is only 150 calories, and no fat grams.
7. Alexia all natural sweet potato fries – Only 174 calories and 5 g of fat for the delightful taste treat of 3 ounces of sweet potato fries. We both know you'll double that, so keep it as your only ingredient for supper. Vitamin A, Vitamin C, calcium, potassium, and iron. That's a healthy dinner!
8. Tyson Grilled Chicken Breast Strips – Already grilled, so heat them up for a sandwich wrap, a stirfry, a taco, or a salad!
9. Engine 2 Grain Medleys – Ancient Grains Blend – contains organic quinoa, organic farro, organic red lentils, organic brown rice, organic black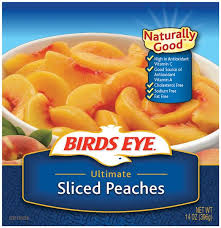 barley. That's like so much healthy stuff that you won't need to eat healthy again for a week. Kidding! Of course we eat healthy every meal.
10. Birdseye Ultimate Frozen Sliced Peaches – If you can't find fresh, frozen peaches are great in recipes. Little did you know that the lowly peach supplies you with Vitamin A, Vitamin C, Potassium, Fiber, Antioxidants, and small amounts of Vitamin E, Vitamin K, Vitamin B-6, thiamine, riboflavin, and more.