Most people who have availed themselves of our services here at MagicKitchen.com know that we deliver nutritious and delicious meals right to your door.  They know that we provide prepared meals that meet a wide variety of nutritional requirements, to include diabetic and dialysis friendly, gluten-free, low-carb, heart healthy, and low sodium.  What many of our customers do not know is the logistics involved in the meal delivery business and how we strive to keep transportation costs down.
As they say in real estate, the top three things to consider when buying a property are location, location, and location and we did just that when we located our warehouse facilities in Kansas.  Why Kansas you ask?  Due to its centralized location within the lower 48 states, Kansas saves us, and thus, you, on shipping costs.  It matters little whether we ship to either coast, southern Texas or the upper peninsula of Michigan, shipping costs are kept to a minimum.
After our chefs have prepared and cooked your healthy and appetizing meals, they are quickly flash-frozen to lock in the essential vitamins, minerals and taste that you have come to expect.  Obviously, they must be kept in that frozen state as they are shipped to your door and that requires dry ice (which is simply carbon dioxide in solid form, FYI).  The inclusion of dry ice adds to the weight of the shipment which adds to its cost as well.  However, if you live in a warmer climate, say southern Florida or California, we add extra dry ice to the packaging to ensure your meals stay frozen at no additional cost to you.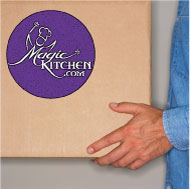 Once your meals have been packaged, we then turn them over to our preferred shipping company, FedEx.  Why should you care about this?  Well, because we ship so many prepared meals across the country and do so exclusively with FedEx, they give us a bulk shipping discount (kind of like when you buy a bunch of stuff at a big box store…the more you buy the more you save).  We then pass on that discounted shipping rate to you.  Simply stated, we charge you what FedEx charges us.
So if you've ever wondered how we derive our shipping costs, it's simply determined by what FedEx charges us based on the weight of the dry ice and prepared meals in your package and how far your package must be shipped to arrive at your door.  Now you know the little secret behind the logistics of shipping in the prepared meals delivered business.