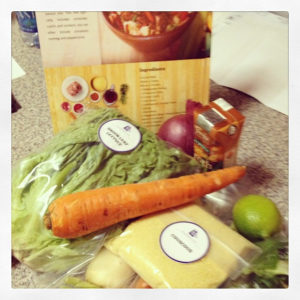 The rumor mill and news agencies are twittering away about the problems multi-billion dollar start-up Blue Apron is having. As we keep our ear to the ground regarding food safety and nutrition, we couldn't help hearing the news.
In case you've been living in a cave and haven't heard of Blue Apron, let me bring you up to date. They are the company who sends you a box with all the ingredients for making several meals, along with the recipe cards for doing so. Everything is packaged so that you get exactly as much coconut milk or butter as you need to create the meal. Just dump it into the pan according to their directions.
They were founded in 2012, and already they deliver 8 million meals per year. That's a huge growth spurt, and like most adolescents, they're having growing pains.
Most of the reports have to do with violence and predatory behavior between employees,  including bomb threats being called in at their Richmond warehouse.
There have been at least four people arrested, and employees have complained of being punched, groped, bitten and even choked by other employees at various times. Bomb threats have been reported as well.
There are some complaints about the work environment as well.  People are hired, fired and quit regularly, causing some chaos.
Buzzfeed's report states, "All told, interviews with 14 former employees describe a chaotic, stressful environment where employees work long days for wages starting at $12 an hour bagging cilantro or assembling boxes in a warehouse kept at a temperature below 40 degrees."
The same facility in Richmond has been visited multiple times by OSHA officials, and some complaints have been registered as to employees' safety. Buzzfeed adds, "In a statement to BuzzFeed News, Blue Apron said it appealed some of these violations and the case has "yet to be fully resolved.""
So all is not rosy in Blue Apron land.
Melody, MagicKitchen.com blogger.