As you contemplate what to get your friends, family and coworkers for Christmas, why not avoid the bland, boring, perfunctory, and/or plain?  Nothing says "I refuse to put any serious thought or effort into my gift decision making process," than a $50 gift card or a tie or cash.  This year, take a risk and go unique and that internet machine makes it easier than ever to do just that.  Simply think about the recipient of your gift and what his/her interests and hobbies are and then take it from there.  With that in mind here are a few uncommon gift ideas (in no particular order…no ranking here, within a wide price range) and where to find them.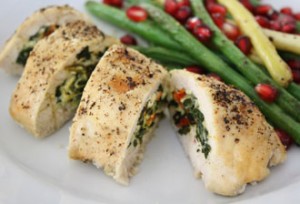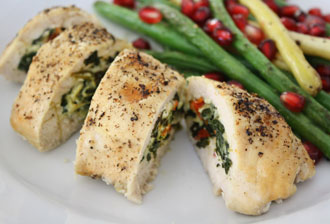 Home-delivered meals – from MagicKitchen.com of course.  They (we?) offer a variety of meal bundles such as comfort food, home-style, soup for the soul, diabetic friendly, low sodium, senior, and gluten-free just to name a few.  All you need to do is determine the needs and/or desires (in terms of food) of the recipient, visit http://www.magickitchen.com/ and take it from there.
Simulated sunrise alarm clock – An extremely appropriate gift for those that suffer with the winter blahs, aka seasonal affective disorder.  This simulated sunrise clock gradually brightens the closer it gets to your wake-up time and it offers five calming, natural sounds to wake-up to as well.  It also works in reverse, as both the light and natural sound diminish as you drift off to la-la land.  Find it here: https://www.amazon.com/dp/B0093162RM/?tag=dodochristmas2016-20
Macaron making kit – NOT to be confused with the Americanized "Macaroon" (the almond-based confection), the French macaron is a to-die-for meringue-based cookie.  This kit provides the receiver with everything they need to make a variety of macarons, from "rose" to "Earl Grey" to "wasabi" (yes, I just wrote wasabi).  Check it out… http://www.uncommongoods.com/product/macaron-kit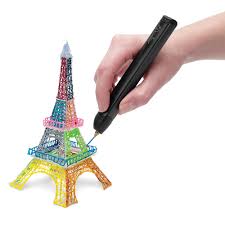 3D writing pen — This hand-held 3D printer is perfect for the artist on your list.  It extrudes (or exudes, I'm not sure which) a warm plastic gel that hardens in a few minutes and allows the user to create works of art that have depth, height and width…hence 3D.  It comes with 50 plasta-gel refills of various colors.  Get it here:   http://www.hammacher.com/Product/Default.aspx?sku=89808&refsku=87427
642 Things to Write About – This notebook of writing prompts brings out the creative writer hiding in all of us.  It offers a series of prompts and space to pontificate.  Here's a couple of examples: "You have been evicted from your home, but rather than live on the street you go to Ikea.  At night, you hide in the bathroom until the janitor leaves.  Write about your life."  And "What is the sound of silence and when did you last hear it?" Read more here:  http://www.uncommongoods.com/product/642-things-to-write-about
Pac-Man video game console – This full-size arcade console will fill the owner's home with the vintage "wocka, wocka, wocka" sound as players run from (or chase) blinky, pinky and those other two ghosts through the most famous of mazes.  The game, while a bit expensive, also comes with 12, pre-loaded classic arcade games such as Galaga, Dig Dug, and, of course, Ms. Pac-Man.  Fulfill your classic gamer's wishes here: http://www.hammacher.com/Product/Default.aspx?sku=11801&PID=7101032&source=cj
Custom Bobblehead – Why collect bobbleheads of famous athletes when you can give any person on your list their own bobblehead?  Simply visit this site  http://www.1minime.com/ , pick a body-style (they have over 450 to choose from, such as: Scarface, a pimp, various athletes, the grim reaper, a ninja, a princess, a bride, rock star and couples too), upload a picture and they'll take it from there.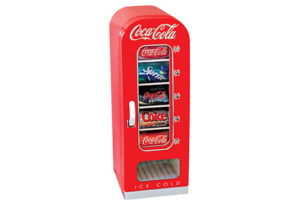 Vintage-style Coca-Cola vending machine – This mini-fridge vending machine holds ten 12-ounce cans of your favorite beverage (not necessarily coke) and is perfect for an in-home bar, game room or the ever popular man cave.  It offers push-button vending…just remember to keep it well stocked.  https://www.sharperimage.com/si/view/product/Coca-Cola-Vending-Fridge/201599
A Listography Journal – An alternate way to journal, this series comes in a variety of titles that coerce the writer to reflect upon their life as they compile lists of their favorites and from either their present or past.  Titles include lists that deal with your favorite films, books, food, travel places, and things you'd like to do in the future.  Get writing here:  https://www.amazon.com/dp/1452106517/?tag=dodochristmas2016-20
Teas from around the world – Give the gift of global teas to the tea lover on your list.  It contains a set of ten tubes of loose-leaf teas from various global tea-producing areas.  Each tube makes enough tea for 6-8 cups.  The teas range in flavor from Long Jing to bancha tea mixed with roasted rice.  Read more here:  http://www.uncommongoods.com/product/tea-from-around-the-world-set
DIY Computer – For the computer geek, er, genius in your life.  This computer kit comes with everything one would need to build a computer, to include a wireless keyboard, speaker, HD screen, and PCU.  It comes with a step-by-step instruction guide and gets the owner started on coding skills and making their own apps and games.  https://kano.me/store/uk/products/kano-complete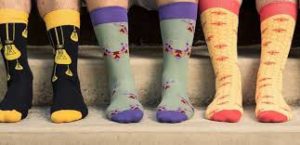 Membership in the sock-of-the-month club – Usually socks, well, suck as a gift.  However, many use socks to express their individuality, and this gift certainly will help them in that endeavor.  They offer a variety of socks from traditional to quirky, from no-show to over-the-calf.  The recipient can receive one or two pair of socks every month with a new design that have never been sold before.  Learn more here:  http://www.sock101.com/sock-of-the-month-club-s/1869.htm
Bacon flavored toothpaste – Nothing says fresh breath like bacon!  For the person that just can't get enough bacon in their life, this is the gift for them.  This 2.5 ounce tube of pork goodness will leave the taste of breakfast in the user's mouth for hours and cause people in the vicinity to develop a strange craving for crispy bacon.  Yes, this is a real thing and here's the proof:  https://www.offthewagonshop.com/collections/weird-funny-gifts/products/bacon-flavored-toothpaste
Star Wars BB-8 robot – Modeled after the famous robot from The Force Awakens, this smaller version reacts to commands from either a Smartphone app or its owner's voice!  It also has autonomous behavior that permits it to wander around on its own as well as an adaptive personality that allows BB-8 to develop a unique personality through interactions with its owner.  Buy it here: https://www.amazon.com/Sphero-Star-Wars-BB-8-Droid/dp/B0107H5FJ6/ref=sr_1_1?ie=UTF8&qid=1471962679&sr=8-1&keywords=sphero+bb8&tag=goodhousekeeping_auto-append-20&ascsubtag=goodhousekeeping.gallery.399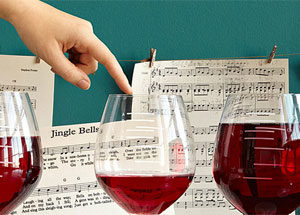 Musical wine glasses – each glass in this set of two is actually capable of playing a note in the A-major scale.  The note it plays is dependent upon the level of wine in the glass.  Each note is clearly marked on the glass and all that's required to get it to tone is a quick swipe around the rim of the glass with a wet finger.  A unique take on the toning bells idea, party goers can actualyl play songs which is made easier with the included downloadable sheet music.  See them here:  http://www.uncommongoods.com/product/major-scale-musical-wine-glasses-set-of-2
Wonder Woman apron – We all have a wonder woman in our life so why not let her know that with this colorful kitchen accessory.  It might not improve her cooking skills, but she'll definitely look better (if that's possible) while working on those meals.  Peruse it here: https://www.amazon.com/gp/product/B00541NO4E/ref=as_li_tl?ie=UTF8&camp=1789&creative=390957&creativeASIN=B00541NO4E&linkCode=as2&tag=tuckerheavy-20&linkId=TOPMX4MOVPHGBKZG
Mossy Oak pink camouflage duffle bag – Have a woman on your list that loves outdoor activities, like hunting or fishing, but still wants to exert her femininity?  Then this is her gift.  This 20-inch bag features the famous Mossy Oak camo accented with pink handles, zippers, shoulder and reinforcing straps.  See if it's what she's looking for here: https://www.amazon.com/gp/product/B009RUQC0G/ref=as_li_tl?ie=UTF8&camp=1789&creative=390957&creativeASIN=B009RUQC0G&linkCode=as2&tag=tuckerheavy-20&linkId=XCYP4P2VAYYGSMGE
Bluesmart carry-on luggage – With this innovative carry-on, the owner can track the whereabouts and condition of his/her bag through 3G and GPS technology.  It beams this info to a smartphone.  It also comes with a battery and two USB ports that can be used to charge a phone six times over.  This TSA approved luggage also features a water-resistant surface and a built-in scale.  Be amazed here:   https://www.amazon.com/Bluesmart-1-Smart-Carry-On-Luggage/dp/B00X5OUC1U/ref=as_li_ss_tl?s=boost&srs=12034488011&ie=UTF8&qid=1447630729&sr=8-42&linkCode=sl1&tag=randallheavy-20&linkId=88e08fc43edcdb6ca1d2f6c087bbd695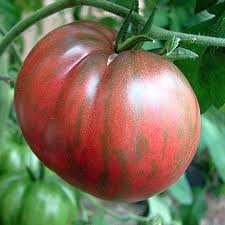 Plant Theatre funky veg kit – Who hasn't wanted to grow multi-colored Swiss chard, purple carrots, red Brussels sprouts, or striped tomatoes?  Well, this kit provides its recipient with everything they'll need to grow all of them (seeds, pots, and peat blocks).  The perfect gift for those who desire to create a psychedelic salad.  Here it is: https://www.amazon.com/Plant-Theatre-Funky-Veg-Extraordinary/dp/B00Q74B3D6/ref=as_li_ss_tl?ie=UTF8&qid=1447636639&sr=8-11&keywords=gifts&linkCode=sl1&tag=randallheavy-20&linkId=cbf9f11b0a3ae61da87481d8e45753d2
Exploding Kittens card game – this family-friendly card game bills itself as a "card game about kittens and explosions and sometimes goats."  I'll leave the rest to your imagination, but if you're curious you can check it out here: https://www.amazon.com/Exploding-Kittens-About-Explosions-Sometimes/dp/B010TQY7A8/ref=as_li_ss_tl?ie=UTF8&linkCode=sl1&tag=randallheavy-20&linkId=4382a5fc7f6304a38277eda570e1ff6f
There you have it…20 unique gift ideas for just about everyone on your gift list.  So please, this Christmas, take a chance and give a gift that is truly as unique as you are.  I'll just leave you with a quote from one of my favorite Hugh Grant movies, Four Weddings and a Funeral,  "Why be boring?"  Happy Holidays!