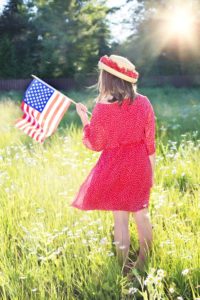 Before we discuss these "awesome" decorating ideas, please allow me to pontificate for a moment.  It seems from my vantage point that our "patriotic" holidays (the Fourth, Memorial Day, Veteran's Day) have melded into a giant mélange of red, white and blue.  We seem to have forgotten their origins and why they were created.  So please indulge this former history teacher for just a moment.
Also known as Independence Day, this holiday commemorates the adoption of the Declaration of Independence by the representatives of the thirteen American colonies.  This Second Continental Congress met in Philadelphia and on June 7, 1776 Richard Henry Lee, a delegate from Virginia, proposed that the colonies secede or declare their independence from Great Britain.  However, the vote was postponed until a formal document could be drafted which would explain to the world why the colonies felt it was necessary to take such drastic action.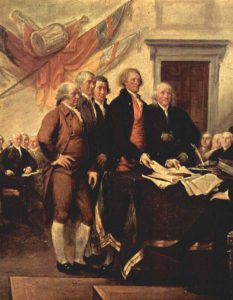 The Congress then created the celebrated Committee of Five, comprised of Thomas Jefferson, Benjamin Franklin, John Adams, Roger Sherman and Roger Livingston to draft what would come to be known as the Declaration of Independence.  Written by Jefferson and primarily edited by Franklin, the document decreed, in no uncertain terms, that the colonies would be, henceforth, a free and independent nation.  It also went on to list the reasons why, or justifications for breaking from Britain, to include trade and expansion restrictions, the lack of self-governance and military occupation.
On July 2, Congress passed Richard Henry Lee's resolution of independence 12-0 (New York abstained, but later changed their vote to the affirmative).  Then, on July 4, they officially adopted the Committee's Declaration of Independence.  John Adams mistakenly thought the nation would celebrate its independence on July 2.  The next year, 1777, Philadelphia celebrated the Declaration's anniversary on July 4 and as the years passed, more locations did the same until it became a paid federal holiday in 1938.
Just a little background for you to consider as you implement the following yard decorating ideas to celebrate the 241th anniversary of America's independence.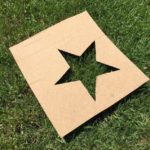 Lawn stars – Take a large hunk of cardboard and cut out a five-pointed star for your template and if you're feeling ambitious, cut out various sizes.  Place your newly fashioned template on your grass and paint as many red, white and blue stars as you require or desire.  And not to worry, the paint will NOT kill your grass and since grass grows relatively fast, you'll chop the painted tips off the next time you mow. (photo courtesy of http://www.hometalk.com)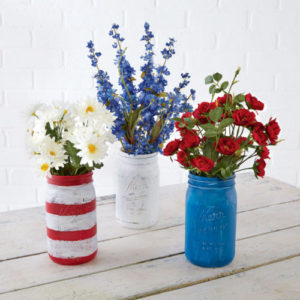 Red, white and blue centerpieces – Use mason jars rather than vases and fill them with bouquets of red, white and blue flowers and place them in a row down the center of your holiday picnic table.  Here are a few flower suggestions…red: chrysanthemums, tulips, gerbera daises, dahlias, or geraniums.  White: same as red, add daffodils.  Blue: forget-me-nots, bellflowers, cornflowers, or perennial geraniums.(photo courtesy of https://www.fiftyflowers.com)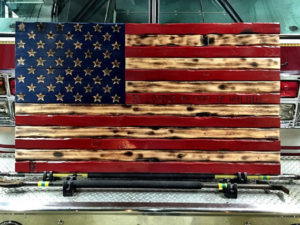 American pallet flag – Simply find one of those ubiquitous wooden pallets lying around and paint an American flag on it.  Paint a blue background in the upper left corner and then add five-pointed stars.  And no, you don't need to squeeze 50 of them on there unless that's your thing, four offset rows of five is plenty.  Then paint alternate planks of the pallet red and white for the stripes.  And no, you don't need thirteen stripes, that would be one big-ass pallet.(photo courtesy of: http://fourthofjulyblog.blogspot.mx)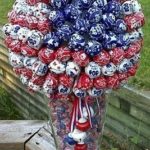 Bouquets of red and blue Tootsie Pops – Find white jars, or paint a few, and place red and blue Tootsie Pops, stem down, into the jars to make a colorful and patriotic display…popular with kids and adults alike.
Patriotic cupcakes – Not necessarily a "yard decoration" unless you place them at strategic locations around your yard, these edible cakes of patriotic goodness are, none-the-less, quite popular.  For the cake part, simply use red batter.  As for the frosting…white, of course. And then top with blueberries…voila!
Now, as everyone admires your unique Fourth decorations, you can regal them with your knowledge of this country's unique history.  Happy Fourth of July!