Got a busy person or family on your Christmas list? Don't know what to get them?  Well, since you're reading this post, you certainly know that we here at MagicKitchen.com have the solution to your gift giving problem…snuggies!  You know, that fleece blanket/pajama thing that was popular a few years…oh wait, we don't sell snuggies here, we sell flavorful and nutritious meals and that is, of course, the solution to your gift giving conundrum.
You know the type of mega-busy person or family on your list…they're like the Tasmanian Devil, always in motion, spinning (hopefully without the slobbering or animal noises) from one thing to the next, whether it's work, or the gym, or Tommy's soccer practice, or Mary's clarinet lesson, or a family function, or on an envious vaca, or yoga class, or shopping, or God knows where.  And on their way from one event to the next, they probably stop at a fast food joint for a fine dinner of greasy burgers, chicken-like nuggets, sodium drenched fries, and sugar-filled and caffeinated soda.  Help them stop the madness!  Give them the gift of delicious and nutrient dense meals (not snuggies) from MagicKitchen.com.
Most people feel juuuuuust a bit guilty either eating fast food themselves or feeding it to their children.  Its primary appeal isn't its low cost or taste, but its convenience.  It's food that's prepared and presented extremely fast, hence the name, that can be consumed quickly, without the bothersome use of silverware.  However, its nutritional value leaves, shall we say, something to be desired.  Well, guess what?  Go ahead, guess.  Seriously, make a guess.  Yeah, I was never a fan of the "guess what?" question either.  I mean, what am I guessing?  At least give me some choices…but I digress.
The answer to my lame "guess what?" query is that MagicKitchen.com is just as convenient as fast food, perhaps even more so as we will deliver fully cooked, delectable and nutritious meals straight to your gift recipient's door.  All that's required of the recipient is to heat up the meals (instructions included) and serve, either in the recyclable containers provided or on grandma's flatware…your choice.  What the **** could be more convenient than that?  And those pangs of guilt?…gone!
And if the busy person on your list has specific dietary needs, we've got that covered too…diabetic and dialysis friendly, low fat, low sodium, low carb, dairy f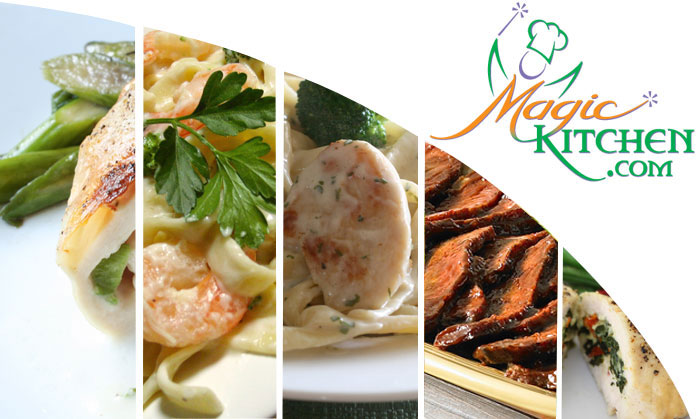 ree, gluten free…told you we've got it covered.   More examples of having everything covered: we also offer breakfast, lunch and dinner, meal packages, desserts, sides, soups, snacks, single-person meals, family meals, an a la carte menu, single gift certificates and group gift certificates to which others can contribute.
So, give the busy person or family in your life the gift of both flavor and convenience this holiday season, oh yeah, and the gift of guilt relief as well, with delicious and nutritious food delivered right to their door from MagicKitchen.com (save the snuggie for another occasion).