Yes, here it is.  The much anticipated annual post regarding 2018 superfoods.  Faster than a speeding antioxidant, more powerful than an amino acid, able to leap tall viruses in a single bound.  Look, inside at your immune system.  It's a flavonoid.  It's an omega-3 fatty acid.  It's superfood!  Strange visitor from another country who came to America with powers and abilities far beyond those of ordinary foods.
OK, enough with the dramatics.  A superfood obviously has little in common with a superman, but what, exactly is a superfood?  The handy online dictionary defines it this way: a nutrient-rich food considered to be especially beneficial for health and well-being.
Essentially, a food full of vitamins, minerals and antioxidants and few, if any, empty calories.  Therefore, usually a fruit, vegetable, or nut that we've known about, but paid little attention to (cauliflower, pecans, or raspberries) or ones that have been around forever, but we've never heard of before (sacha inchi nuts, maringa, or jack fruit to name three from last year).
So why do they change from year-to-year?  Well, why do car companies put out new models every year?  The answer is the same, we get bored with the old and value the new.  So, with that being said, here's this year's list…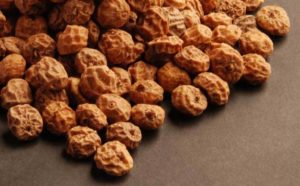 Tigernuts – And no, eating tigernuts is not in violation of the Environmental Protection Act as they're a tuber and not actual tiger…well, nuts.  They kinda look like shrunken, desiccated brown prunes that grow underground similar to other tubers like potatoes, carrots and turnips.  They're native to Spain and the Mediterranean region and are sweet and starchy at the same time.  They get mentioned as part of a paleo diet and are rich in fiber, vitamins E and C, potassium, zinc and iron and since tigernuts aren't nuts, there's no worry about nut allergies…obviously.  Aside from being eaten, they also come in the form of milk called horchata.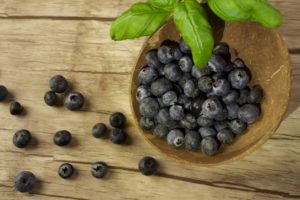 Maqui berries – Native to southern Chile and Argentina, maqui berries resemble fat, purple blueberries with a slightly tart flavor.  They are apparently stuffed full of antioxidants, fiber, and omega fatty acids.  Their promotors claim they combat arthritis, high cholesterol, colon cancer, heart disease and diabetes.  This year, they are THE ingredient to add to your morning smoothie.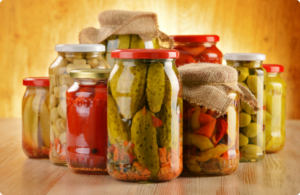 Fermented foods – While this isn't a specific food, anything with "healthy" bacteria are all the rage this year, to include fermented milk products and vegetables.  The word most associated with fermented food is "probiotics" which refers to the beneficial bacteria present in them that promote digestive health.  Examples in the fermented foods category includes sauerkraut (a German fermented cabbage), kimchi (a Korean dish of fermented cabbage, radishes and other vegetables seasoned with chili powder, scallions, garlic, ginger and jeotgal), kombucha (a fermented drink of black tea, vinegar and sugar) and kefir (a fermented cow, goat or sheep milk product that resembles drinkable yogurt).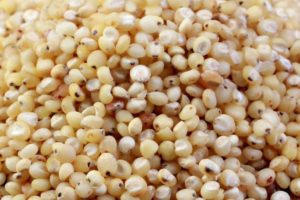 Sorghum – This whole grain that grows in a manner similar to corn, has been popular in the South, in syrup or molasses form, for hundreds of years and in Africa for thousands due to its drought resistant nature.  It's a versatile grain that's high in riboflavin, vitamin B6, thiamin, niacin, and fiber.  Aside from a sugar substitute, it can be ground into flour, popped like corn and transformed into risotto.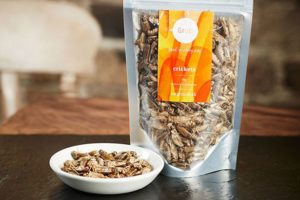 Crickets – And small insects in general.  Apparently, crickets are almost 70% protein and contain all nine essential amino acids, vitamin B12, omega 6 and omega 3 fatty acids, potassium, calcium and iron.  And there is good news regarding the "crunch" factor…the nocturnally active insects can be bought in flour form and baked into cakes, muffins, etc.
There you go, the superfoods of 2018 and there's something for everyone on the list, from whole grains to fruit to non-anatomical tigernuts to creepy crawlies.  After all, variety IS the spice of life.