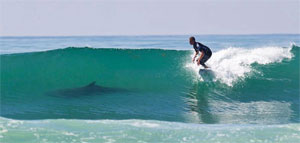 There's a commonly held belief…rule, really… held by surfers that one should never eat shark.  It's a karma kinda thing…why tempt fate by eating what might someday eat you out there on the waves.
However, the vast majority of us do not surf, therefore, we are in no way bound by the surfing rule regarding sharks.  And since the Discovery Channel's Shark Week is upon us once again, we thought this week would be the perfect time to confront your fear of the ocean's greatest predator head on…with your teeth, in fact.
So, as you violate Bruce's (the great white from Finding Nemo) rule of "Fish are friends, not food," there is one important rule that we would like you to follow.  And that rule is when you're in search of the shark for your Shark Week viewing party, ensure that it's a sustainable species as the horrible practices of shark finning and factory fishing have decimated many species of sharks.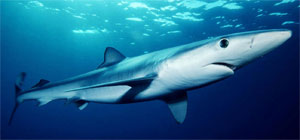 The Monterey Bay Aquarium's Seafood Watch program recommends the spiny dogfish shark from California, Oregon or Washington or the common thresher or smallfin mako sharks from California or Hawaii.
If you've never eaten shark, most find it lean, mild and meaty.  It tends to be denser than tuna or swordfish and doesn't flake as easily.  Most recipes call for the meat to be marinated prior to cooking to add some flavor, tenderness and to prevent dryness.  As one might expect, steak is the most common and easiest way to prepare shark.  So we thought we'd give you two variations on this method: shark tacos and shark kabobs.
Shark Tacos

 Marinade

1/2 cup olive oil
1 tbsp. ground turmeric
½ tbsp. crushed mustard seed
½ tbsp. minced ginger
1 garlic clove, minced
2 scallions, sliced
1-2 tbsp. chopped cilantro
Cracked black pepper and sea salt

1 lb. shark steaks, 1 inch thick
8 flour tortillas
1 cup finely shredded cabbage tossed with 1 tbsp. chopped cilantro and a pinch of sea salt
Tomatillo salsa (either prepared or purchased)
sriracha
Mix the marinade ingredients together in a shallow bowl, sprinkle steaks with sea salt and marinade for 20 minutes.
Grill, broil, or pan fry the shark steaks until they flake easily with a fork, usually 5-6 minutes for each side.  Roughly flake steaks with a fork.
To serve: placed flaked shark meat in warm tortillas and top with cabbage, chilled salsa and sriracha.
Shark Kebabs

Marinade

½ cup rice wine
Lemon juice
¼ tsp ground ginger
3 tbsp. peanut oil
½ cup dry sherry
1 garlic clove, minced

1 ½ lbs. shark steaks cut into 1 x 1 inch squares.
Large mushrooms
Onion wedges
Red and yellow pepper wedges
Bamboo skewers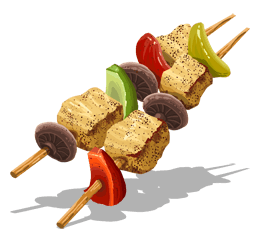 Mix marinade ingredients in a bowl large enough to hold shark meat and allow to marinade for two hours in refrigerator.
Alternate meat, onions, mushrooms and peppers on kabob skewers and grill or broil 10-15 minutes while marinating liberally and often with remaining marinade sauce while rotating a quarter turn every 3 minutes or so.  Shark meat should fake easily with fork when fully cooked.
Kabobs can be served on a bed of rice of your choosing.
T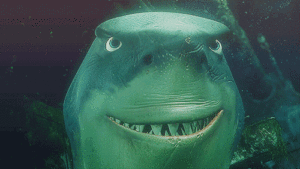 hus you can see, there's no need to get a bigger boat, fish CAN be food rather than friends, and unless you plan on carving up a wave any time soon you can certainly enjoy some shark without the fear of the roles being reversed.  So fire up the grill and enjoy!