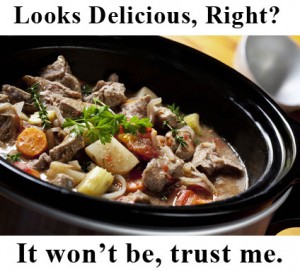 Hello faithful readers, my name is flavor and I continually suffer a long, slow death at the hands (or handles) of my arch nemesis, the crockpot. It matters not if I am attached to a fine pork roast, short ribs, a creamy soup or what was thought to be a zesty chili, the results are always the same. I slowly dissipate and eventually disappear altogether as the crockpot, set on an overly low setting, cooks hour after hour and very gradually leads to my total destruction, leaving not a single trace of my existence behind.
The primary reason for my recurring death in homes across the country has to do with the fact that when food is cooked at a low temperature for hours, it becomes overly dry and I simply get cooked off as the food I'm associated with simmers and simmers and simmers and…you get the point! Yes, you can attempt to save me by adding a variety of spices and herbs, such as garlic, onions, shallots, rosemary, thyme, or peppers of varying colors. However, it is all in vain as they only prolong my ultimate demise as I am even forced to flee from them as the crockpot continues its relentless and evil slow-roasting, murderous onslaught against me.
After I have been eradicated, my descriptive counterparts, bland, blah, tasteless, and unsavory move in and set up shop in your crockpot, biding their time until they can underwhelm the unsuspecting palates of your family, friend and guests. They thrive while I simply attempt to survive within the confines of your crockpot, but even I cannot stand against the four horsemen of the flavor-killing apocalypse in an environment that's conducive to their growth and proliferation. Deliberately, they plot my ultimate end, and I am powerless against them. Oh, the humanity.
For the sake of all that's flavorful and good in this world, please allow your crockpot to collect dust at the back of a cabinet, in a closet, or, better yet, in your basement and find a savory and palatable alternative, such as grilling, broiling or baking with fresh produce and spices.
Of course, one extremely convenient alternative is provided by MagicKitchen.com in the form of delicious and divine entrees, side dishes and desserts, all prepared to keep me very much alive and prominent while banishing the four horsemen of the flavor-killing apocalypse to that great crockpot in Hades, where they belong. MagicKitchen.com prepares all its dishes with me first and foremost in their minds, even the recipes designed for those of you with specific needs or medical conditions, such as diabetes, high blood pressure, or certain allergies. They use the freshest ingredients and deliver these delectable treats right to your door and they don't even own a crockpot.