Today I am going to show you how to make a delicious appetizer. This is a great appetizer to serve because it is so simple to put together, you only need five ingredients and it is a really beautiful and vibrant bite to serve your guests while you are preparing the main meal. (Or reheating your MagicKitchen.com prepared meal).
List of Ingredients
1 lb. butternut squash
Sprinkle of salt
½ c  water
1 baguette, cut into ¾ inch slices, toasted if you like
7 oz  whole milk ricotta
¼ c of balsamic glaze
½ c toasted and chopped hazelnuts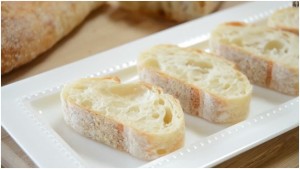 The first thing that you need to do is to prepare your butternut squash so start by cutting off both ends of the butternut and once the ends are off, you just want to cut through the length of the butternut, then you are going to take a melon-baller or spoon to scrape out the seeds.
Put the butternut on a sheet tray, sprinkle the tops with some salt and bake them in a 400 degree oven for about 40 minutes until the squash is nice and tender.
After the butternut is cooled, you can scoop out the flesh and put it in the bowl of a food processor. Now add a half cup of water to start and a pinch of salt, you are going to purée this until it is nice and smooth. If your butternut squash purée is a little bit too thick you can add a little bit more water to thin it out.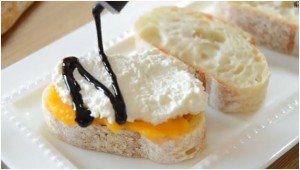 Now you're ready to assemble everything, Take a spoonful of the butternut squash pure, spread that on the piece of baguette, then take a spoonful of whole milk ricotta, add that on top, then finally add a drizzle of balsamic glaze.
Balsamic glaze is basically a reduction of balsamic vinegar, it is a bit acidic and it is much thicker and sweeter than balsamic vinegar, it is a really great ingredient to have on hand.
Then you are going to finish this with some toasted and chopped hazelnuts. The taste is absolutely delicious; there are so many flavors and rich textures in here. This is a great appetizer to serve with some nice orange juice or a tropical blend of banana and orange, your guests will surely appreciate this.
Chef Linda Rosario is a food blogger from Chef Needs, one of the trusted suppliers of unique bar stools. She also loves to paint and dreams of having her own art gallery. Aside from painting and drawing, Linda has a heart for cooking and food.