If you watch the popular BBC America series Come Dine With Me, you'd be forgiven for thinking that hosting a dinner party for some close friends is one big drama from start to finish with argumentative guests, deflating soufflés and the fussy vegan guest who refuses to eat anything you put on their plate. Cooking for friends can be great fun and also completely stress-free, as long as you do some preparation and get organized before the guests start to arrive.
Food
Of course the main focus of any dinner party is the food, but an evening when you are having friends over is not the time to be experimenting with a dish you have never made before or which your cook books rate as for experts only. Try to prepare as much as you can before your guests arrive; a cold appetizer such as a shrimp cocktail or salad can be made in the afternoon and popped in the fridge, and a cold dessert can be made the night before. Have all your vegetables chopped and ready to go, and prepare as much of the main course as you can in advance so that all you have to do when guests arrive is to put the food in the oven and sit down to enjoy your starter. Tried and tested recipes are the best so that you can cook with confidence.
Drink
Many guests will bring wine as a present, but always have a couple of bottles of white chilling in the fridge and some red open and ready so that you can offer people a drink as soon as they arrive. Ask one of the other guests to help you by keeping glasses topped up while you are in the kitchen, or with a group of close friends, ask them to help themselves. Try not to have too much to drink before serving the food as a tipsy host leaves things to burn on the stove or drops servings on the floor more often than a sober one.
Décor
It's not necessary to completely revamp your kitchen and dining area when you are having friends over to eat, but it is worth investing in a plain white tablecloth which can be accessorized with table runners, funky colored napkins, candles and even confetti to create a party feel. Make sure you check all of the light bulbs in your black retro kitchen lights so that people are not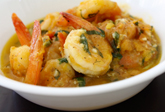 eating in the dark, and for a more formal dinner, print off menus and name cards to put by the place settings. If you don't have enough matching tableware or glassware for all of your guests, several rental outlets and party stores will rent glasses for a small charge. Consider buying some new black retro kitchen lights if your lighting is not up to scratch, and always ensure the kitchen and dining area are scrupulously clean before inviting guests  for something to eat and drink.
The Contemporary Home offer a fantastic range of black retro kitchen lights – just the thing to create a great atmosphere for your dinner party.
And remember, if cooking is too stressful, MagicKitchen.com can help out with already cooked delicious meals! Keep your dinner party simple and easy with prepared meals.