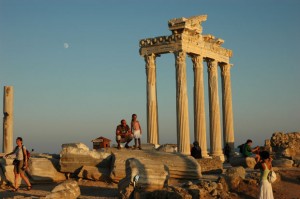 For part one click here, for part two click here.
From Greece we moved on to Turkey, a truly fascinating country with a bad rap. There's something compelling about Turkey. The mix of eastern and western cultures, the many ancient sites and natural wonders, the friendly people and scrumptious food, and the diversity combine to make a trip there one of endless fascination.
The coastline is dotted with resort towns combining the best of white sand beaches with wild bars and terrific seafood restaurants. The interior of the country has gorgeous scenery and a compelling history.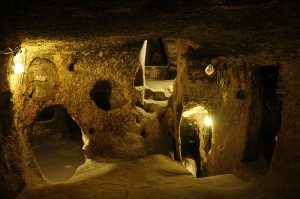 For instance, there is an underground city called Derinkuyu there, cut 7 stories deep in the solid rock, probably by the Hittites, who were contemporaries of the Babylonians. In the center is a huge circular air shaft. It contains stables, wineries, schools and endless tunnels down which you duck-walk to reach the next level.
The food of Turkey is similar to that of Greece (but don't tell them that). One of my favorite appetizers was boreki, cigar-shaped cylinders of phyllo dough wrapped around Gruyere cheese with fresh dill and parsley, deep-fried to a golden crunchiness.
Of course, we still cooked a lot in the kombi or VW  van as well. One day I got extremely lucky with a pasta dish that I was never capable of replicating. In the pantry(under the back seat) I had some pasta. In the tiny fridge I had a bit of medium white cheese, an egg and some milk. I had a few people to feed that night, so I cooked up the pasta in one pot. In the other, I mixed the egg and milk well, and turned on a medium flame. I crushed up the cheese as best I could since I had no grater. When the milk started to thicken up, I added the cheese and some salt and pepper and stirred until the cheese was melted. After my husband had drained the pasta outside, I mixed the pasta and the sauce and it was a huge hit.
You may want to purchase MagicKitchen.com's easy pasta dishes instead of attempting this at home.
Melody, MagicKitchen.com blogger