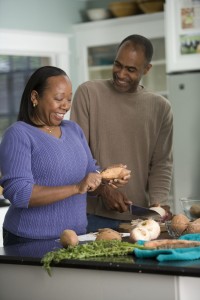 If you're trying to lose weight, or maintain a healthy weight you've worked hard to achieve, you know your food choices play a big part in tipping the scale in the right direction. But for a lot of people, making smart choices for meals and snacks isn't always easy.
You probably don't have a personal chef, unlimited food budget, or loads of free time to dedicate to eating healthy all the time. But it's still possible to change your eating habits for the better. Here are some things you can do to make healthier meals:
Keep It Simple
Forget about making gourmet meals with expensive and hard-to-find ingredients. Find healthy and easy-to make recipes that have a few basic ingredients (especially fruits, vegetables, whole grains, lean meats, nuts and seeds, and legumes) and common seasonings, herbs, and spices. Here are some excellent healthy recipe websites: http://www.eatingwell.com/, http://www.cookinglight.com/food/recipe-finder, http://www.goodhousekeeping.com/food-recipes/healthy/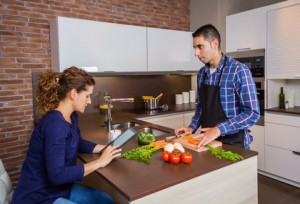 Follow Directions
Unless you're a professionally trained chef, leave the experimentation to the experts. When you're trying to eat healthy and make your own meals, it's important to follow the recipe's directions. Your culinary creations are far more likely to turn out right when you use the specified ingredients, and be healthier when you follow directions.
Cooking is a Skill That Requires Practice
If you've been used to eating at fast food restaurants on a regular basis instead of cooking at home, you're going to need to practice cooking healthy meals. At first, the dishes you prepare might not turn out like you expect. And that's OK. It's just part of the learning process. Be patient with yourself, learn from your mistakes, and before long making healthy meals at home will be a lot easier. Watching the Food Network will give you some great tips as well!
Have to have fast food? Make the right choices.
Many restaurants have healthy choices,  it's a matter of being aware what's good for you and what's bad for your diet. here are a few good tips: http://www.shape.com/healthy-eating/meal-ideas/25-healthy-grab-and-go-lunches
http://www.fitnessmagazine.com/recipes/healthy-eating/on-the-go/healthy-fast-foods/
Have a Backup Plan for Healthy Meals
One of the common pitfalls of adopting healthy eating habits to lose weight or maintain a healthy weight, is the lack of a backup plan. When you're pressed for time, you might not have a lot of time to cook. Without a backup plan, it's all too easy to turn to fast food loaded with empty calories when it's time to eat. But it doesn't have to be that way.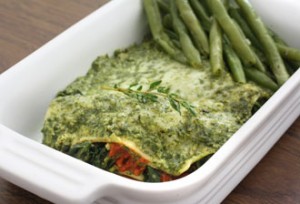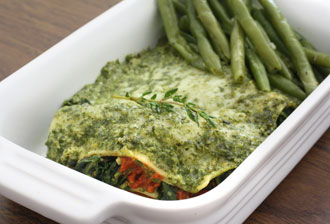 Choose Your Favorite Portion Control Meals
If cooking isn't your thing, or you know you're going to be pressed for time, you can still eat healthy. Make Portion Control Meals by MagicKitchen.com your backup plan to stick to your goals. Our professional chefs have prepared dozens of healthy, tasty, and lower-calorie meals like Chicken & Apple Curry With Jasmine Rice, Beef Pot Roast with Mushroom Gravy, Brown Rice & Green Beans, Spinach Mushroom Lasagna with Garlic Green Beans, and many others.
Cook healthy meals at home and have a backup plan to eat healthy when you're extra busy, and you'll be headed in the right direction to lose weight and maintain a healthy weight.