Ok, so you want to have a little wine with your meal. Great, because you don't have to be Italian, or even speak with a French accent to do that, heck, you don't even need to be European. No, I'm not calling you a peon. Just follow me here.
The rule of thumb is red wine with red meat, and white wine with white meat. That rule doesn't always hold true, but most of the time, it does.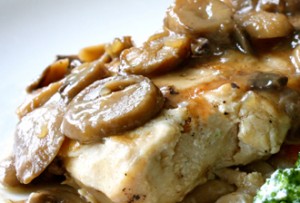 But what are some nice wines you can enjoy with the perfect meal? All right, let's say you having Chicken Marsala with some fresh roasted asparagus. A perfect matching wine would be a nice Chardonnay. Now I know that the marsala is a red wine sauce and you may be thinking that perhaps that might clash with the white wine. Not at all really, remember the chicken? It's considered a white meat, of sorts. Chicken has light and dark meat. Dark meat is not to be confused with red meat. Now that we have that out of the way, you could also try it with Chablis, but just keep in mind that Chablis wine is drier than Chardonnay. It's all in the taste of the individual. If you're a wine novice, just stick with the Chardonnay.
Now, this next part might make you want to crack me over the head with your chilled salad fork, but guess what? You could also have a Pinot noir with your Chicken Marsala. Yes, yes I know what I said about white meat, red meat and the matching wine, but sometimes it's not just about the meat, but what you do with it. Because the marsala is a red wine sauce, made with Marsala wine (a red wine), you can enjoy a nice Pinot noir with this meal without breaking any epicurean protocol.  Now put down the meat cleaver, you're scaring me.
Let's look at another example. Say you're serving pasta with a nice pesto paste. Now, pesto is typically made using basil, garlic, olive oil, pine nuts, grated hard cheese and salt. So, what is the perfect wine to go with that? Try a Carricante and savor a little taste of Sicily while you're at it. The Carricante can range from $13 to $35 bucks a bottle, but hey, you're having pasta with a pesto paste. I mean, how much does that cost? A little basil and pine nuts, heck, you may as well splurge on the wine, because that snappish, yet dazzling citrus flavor of the Carricante cuts right through the olive oil, and garlic, making each bite of your meal a completely new experience.
Listen folks, we could go on all day about pairing wines with every dish known to man, but I think you're getting the general idea here. Now it's time to venture out over the abyss and try a few things on your own. Bon appetit!
Dain, MagicKitchen.com Blogger