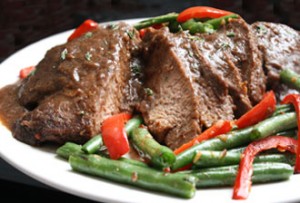 Whether this is your first date and you are just now getting to know each other, it's your anniversary and you and your significant other are celebrating your long lasting love together, taking the time to plan a romantic meal, and pulling out all the stops, can create the ultimate ambience. You can make it easy on yourself by buying already prepared meals from MagicKitchen.com. If you serve delicious dishes like Beef Pot Roast followed by an incredible dessert like Chocolate Ganache Cake; how could you not have the beginnings of the perfect date?
Planning the menu for a perfect date doesn't need to be about serving the most expensive wines and putting together complicated entrees, A romantic evening with your partner is all about showing them how much you care about them and since the beginning of time food has been a great way to set the mood. Arranging an intimate evening at home, away from the unwanted distractions of a busy restaurant lets you focus on yourselves as a couple. The most important thing to remember is to have fun and get to know each other over the carefully thought out menu you've planned for your perfect date.
The meal is the most important part of "The Perfect" date and you'll want to plan a main course that is light enough to leave room for a delicious dessert, also keeping in mind your date's likes and dislikes. You can't lose if you make a hearty, flavorful Beef Pot Roast with gravy and maybe some fresh green beans and new potatoes as side dishes. Follow this wonderful meal with a rich and creamy, melt in your mouth Tiramisu and your irresistible treat is sure to get the reaction you're looking for.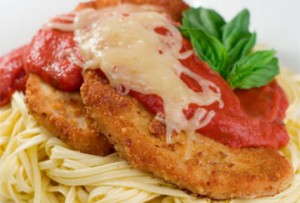 Another great choice that should be considered as the mainstay on a menu for the perfect date is Beef Stroganoff with pasta, everybody's favorite comfort food. If you and your date are more partial to chicken, luscious, rich Chicken Marsala is fantastic choice, covered with savory mushrooms and delightful wine sauce. Another favorite is Chicken Parmigiana, cooked to perfection, bathed in delectable tomato sauce, covered with Mozzarella and Parmesan cheese.
If you or your loved ones enjoy dessert, and who doesn't, then you'll want to try the Chocolate Lovers bundle, a wonderful collection of rich delicious chocolate desserts. For something different try the "Bada-Bing" cherry bread pudding which not only delivers a delightful taste, you'll have fun with the name; a cute conversation piece. When it comes to desserts, cakes are always a great choice and can range from traditional carrot cake to a moist and delicious chocolate cake, to an assortment gourmet cupcakes. Perhaps you want something more along the lines of double fudge brownie or Dutch apple pie (topped off with ice cream maybe?); yum!
The best way to put together your menu for a perfect date is to make it a surprise and keep it simple. Over complicating things will just stress you out and make you feel anxious. This is supposed to be fun and exciting and by planning your menu with the choices mentioned above you can relax, enjoy a glass of wine and your date will appreciate all your efforts in putting together the perfect date.
Cheryl, MagicKitchen.com blogger