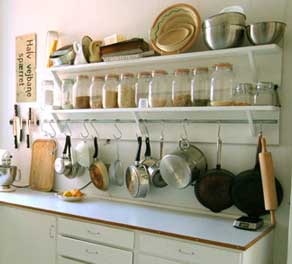 Having the proper setup in your kitchen can be beneficial to cooking. Looking around for a pot and fumbling to find a particular pan can be frustrating. There are ways to prevent these annoyances from happening. Becoming organized is the first step, and here are some things that can help:
Shelves – Shelves are an easy item to install. They are decorative and can hold your favorite spices or kitchen utensils. Shelves come in different sizes and styles.
Racks – Pots and pans tend to be awkward in size and normally will not fit in a cabinet. Racks are the best way to get your pots and pans out of the way while offering easy access to them. Racks can be placed hanging from the ceiling or are available in free standing units.
Storage – Get rid of any clutter you may have in the kitchen. Cabinets and other additional space saving units can be added to help create storage and organization for your kitchen. In addition to shelves, racks and cabinets, you may need a large pantry or other approach to storage.
Containers – What a great way to save space. Containers can hold your cooking supplies as you can put more than one item in them. They are available in different sizes and can be purchased almost anywhere that sells cooking supplies.
Jars – Everyone has an empty jar or vase around the house. You can put it to use in your kitchen on your path to becoming organized. Jars and vases can hold your cooking utensils and serve other functions. You can use these to be decorative or keep them placed out of the way and unseen.
Countertop – Having the ideal countertops is more than just having marble, granite, quartz or stainless steel. Having amazing countertops means keeping them free from clutter and mess as well. Having the storage you need, will help you stay organized and have plenty of space to work on your countertops.
Refrigerator – Last but not least on the path to kitchen organization is cleaning out your refrigerator. You want to be able to cook meals that impress your family and friends and don't make you ill. You will need to eliminate any food or condiments that have spoiled. Baking soda is a good item to purchase in order to make your fridge fresh.
Having a neat, clean and organized kitchen is crucial to having a functional kitchen. Whether you are designing your dream kitchen or straightening up the one you have, the key to success is getting organized. There is nothing more frustrating than burning a meal because you spent too much time looking for a spice. You can visit KitchenRemodelCosts.com to help design your ultimate kitchen.
A good kitchen set up is part of the organizational path you'll need to see any benefits. The next time you prepare a meal you can begin to notice what could be improved upon in your kitchen arrangement to help the room make more sense.