Maybe you've seen the pictures of our cheesecake and wished you could order some, but you're gluten-free?  Here's the answer.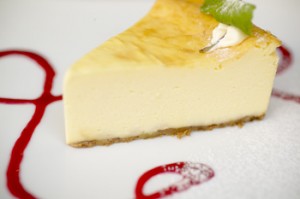 This is a lovely recipe for a rich, creamy, gluten-free cheesecake done exactly like the traditional New York cheesecake. The added bonus to this is that celiacs won't suffer any ill effects from it because of the nature of the recipe. It's made from cream cheese, sour cream and graham-style crackers and topped with a very nice cherry pie filling. This is an easy recipe which takes about an hour and a half to complete and we guarantee you'll be willing to share it with friends and family. Or you could have it all for yourself, we wouldn't blame you. Before you begin you will need to prepare these ingredients:
The Crust:
1 ¼ cups of graham cracker crumbs, gluten-free
4 tablespoons butter, melted
2 tablespoons sugar
¼ teaspoon nutmeg
The Filling:
2 lbs (900 g) cream cheese, softened
1 cup sugar
1 cup sour cream
4 eggs
2 tablespoons cornstarch or sweet rice flour
1 tablespoon vanilla extract
The Topping:
1 cup sour cream
¼ cup sugar
1 teaspoon vanilla extract
Cherry Glaze
1 can cherry pie filling, 21 oz or the equivalent in maraschino cherries
1 tablespoon sugar
¼ tablespoon vanilla extract
You need to preheat your oven to about 325°F (163°C), then take a nice spring-form cake pan. Take the graham crackers crush them to a fine dust with a rolling pin. You may want to place them in a Ziploc bag or something similar to avoid spilling beforehand though. Next pour the crumbs into a mixing bowl and add sugar and nutmeg, then stir until they blend well together. Add the melted butter and keep stirring until they are combined.
Next you must press the mixture on the bottom of your pan. Make sure you don't press the crumbs on the sides of the pan as this may ruin it. Place it in the fridge so it can cool down while you begin step two – making the cheesecake filling.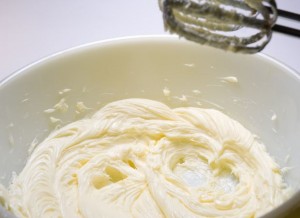 Grab a large mixing bowl and place the sugar and cheese within, then beat it an electric mixer until its creamy and smooth. Add the eggs next one at a time and then the rice flour, sour cream and vanilla. Once again beat the mix until its smooth and ready. Next you must take the crust from the fridge, followed by pouring the filling in the spring form pan. Using a spatula you must smooth top it and bake it for about 45 minutes until it is done.
While that is happening you can work on the topping by taking the sour cream, sugar and vanilla extract and whisking them until they have blended well and smoothly. Take the cheesecake out of the oven and spread the sour cream mix on top. Be careful not to damage the surface itself and work with a light touch. When that is over return the cake back into the oven for about 15 minutes so the topping can harden a bit, then turn off the oven. Leave the cake inside for an hour while it cools down and then refrigerate it for 4 hours before you have to serve it. The cherry pie filling is made in a similar fashion to the topping, but blending the ingredients together. You should spread the cherry glaze carefully on top before you serve each piece to keep it nice and fresh.
We hope you enjoy this recipe! Remember to always read the labels on the ingredients you use to avoid gluten contamination of your food. Many companies may change the contents of some of their products without warning so it pays to be extra careful.
This guest post has been submitted by SW16 Moving Services.