Beth Rommel (at niftyartgirl.com and beth@bethrommel.com) is a young artist with some wonderful ways of looking at the world. She wrote a blog about us today called, "Answer to a Prayer". Have a read when you get a chance.  Her paintings are bold and colorful with more than a hint of humor.
Here's the exciting part; she loved her experience with MagicKitchen.com so well, she painted a picture for us. Before you look at it below, here are some of her notes about it: "I felt like the food magically showed up at the doorstep when I couldn't be there to cook for my loved one." As flying people are kind of her trademark, she did a beautiful  flying person for us. Click on it to see the detail.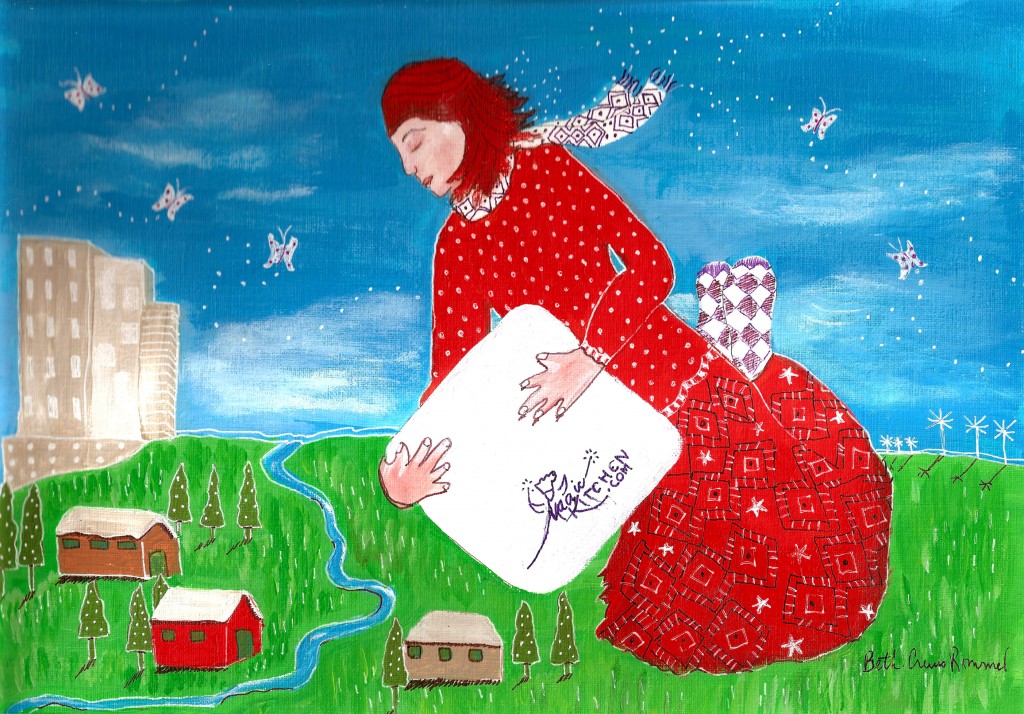 See how we're feeding the world there? We love it, Beth, thanks so much!!
Here's part of Beth's bio, so you get to know her a little better:
Beth's paintings have been shown in the Dallas area at Muse Interiors, in San Antonio at the Alamo Heights Art Festival, Riverwalk Art Festival, San Antonio Art Institute juried show, and the Painted Pony and Junior League Galleries, in Santa Fe at the Leslie Flynt Gallery, Sanford, Florida at the Gallery on First, Artistry Co-op, and First Thursday exhibits in conjunction with the shop at the Orlando Museum of Art. She has also received awards for her painted furniture in the HEB area of North Texas.
Melody, MagicKitchen.com blogger