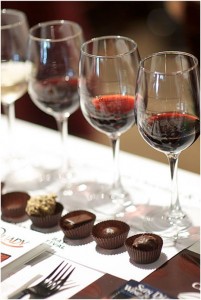 Although wine and chocolate are popular gifts and are frequently given concurrently, most people view the pairing of wine and chocolate as being more unusual than, say, combining wine and cheese. But the truth is – allowing for some variation in personal taste, of course – just as with cheese, the right kind of wine can serve to bring out the flavors in chocolate, making for a delightfully complementary combination. So which types of chocolate go with which types of wine?
White Chocolate
White chocolate differs from other kinds of chocolate in that it contains cocoa fat, not cocoa. This makes it mellower and more buttery in terms of flavor.
Try pairing white chocolate with sherry, or a Moscato d'Asti or an Orange Muscat. Alternately, port – especially a Rosé port – can add a hint of strawberries to the combination, while a bottle of 2000 Vintage Graham's Port paired with white chocolate can taste delightfully of blueberries and cream.
If you're interested in more contrasting pairings, try a wine like a Zinfandel – the heavier tannic and higher alcoholic content are softened by the creamy, buttery white chocolate. This results in a particularly memorable blend of flavors.
Milk Chocolate
A Pinot Noir or a lighter Merlot can go nicely with milk chocolate; equally, Muscats and dessert wines are particularly good milk chocolate complements. Sparkling wine and champagne are pretty standard favorites when it comes to chocolate-dipped strawberries.
Ultimately, I find that a good Ruby Port makes an excellent companion for milk chocolate. However, an aged Montilla-Moriles paired with milk chocolate can result in a wonderfully caramel-like flavor.
Dark Chocolate
Dark chocolates should not be paired with particularly bitter or non-sweet wines – they go best with wines that have a roasted, robust flavor with perhaps some chocolaty notes. Think Cabernet Sauvignon or Zinfandel.
Your choice of wine may also depend on the level of cocoa solids in the chocolate – if it's around 55%, then a Pinot Noir or a Merlot may go nicely. Consider a Tawny or Vintage Port as well.
Caramel Chocolate
If you dislike sweet wine pairings, perhaps look away now – pretty much all the flavor pairings on this list tend towards the non-bitter. For wines that particularly match the flavor of the caramel, think sherry, or Tawny Port, or a Madeira. For flavors that are a little more complementary, try a Moscato d'Asti, a sweet Demi-Sec champagne, or a Lambrusco.
Nutty Chocolate
Whether you're a fan of peanut butter cups or just a good old bar of hazelnut chocolate – or almonds, or peanuts, or any kind of nut you care to name, frankly – the obvious thing to do is to pick a wine that accentuates the flavor of the nuts. That can be an Amontillado Sherry or an Oloroso Sherry – or Madeira.
Chocolate Mousse
A light chocolate mousse goes well with an equally light wine – something bubbly, if you'd prefer. A good option is a lightly sparkling, low-alcohol semi-sweet Brachetto – sort of like a red Moscato, but with more of a fresh strawberry flavor. You may not want sweetness to the point of being cloying though, so consider a more acidic Birbet from Cascina Ca 'Rossa.
Molten Chocolate Cake
This dessert is pretty much the opposite of mousse – and can therefore handle a more intense wine. A aged and fortified wine goes nicely with the warmth of the molten chocolate and the general richness of the cake – Banyuls is good, or Maury, if you're looking for something a bit less pricey.
As with all flavor combinations, there's something different for anyone – I know people who love a Shiraz with chocolate cake, yet I know people who refuse to combine red wine and chocolate. So what are your favorite wine and chocolate combinations?
Bio:
Elise Lévêque is a wine lover with a taste for new flavour combinations. She shares her advice on the subject by blogging for Hay Hampers.