A blogger- coupons are great recently reviewed us, and it looks like she thought we were a-ok!
One of the things that I know I didn't even think about when I was expecting my first child was what we were going to do about dinners when we got home from the hospital.  As an expecting mom, the last thing on your mind is anything but getting to the point of holding that new baby in your arms and just enjoying your first few weeks being a parent.  The last thing you want to worry about when adjusting to a newborn's eating and sleep schedule in those first few weeks is cooking for your family.  This time around I will be worrying about feeding a family of four while caring for a newborn, and I'm not really interested in having fast food and take-out each night.  That's why I LOVE the idea of MagicKitchen.com.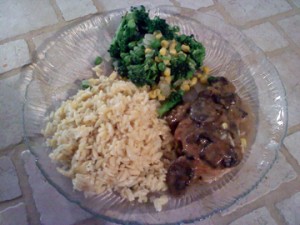 MagicKitchen.com is a company devoted to making lives easier for all of us by delivering healthy, chef-prepared meals to your door (all across the US!).   The meals are all prepared with top-quality fresh produce and ingredients and are delivered to your door frozen.  You thaw, heat, and serve them!  All the meals come with instructions on how to heat using either a microwave or oven attached to the product so there's not even any thinking involved!  You can have a healthy, yummy meal prepared in no time with much less mess and hassle!
MagicKitchen.com sent my family of four the Chicken Marsala dinner to try.  It arrived via UPS in a Styrofoam cooler with dry ice and was still completely frozen.  We placed it in the freezer and then pulled it out and put it in our refrigerator the night before we planned to cook it.  The directions actually recommended the morning of, but I was afraid I would forget that morning (and the instructions stated the food would be fine in the refrigerator for up to 3 days).  I loved that each of the items was individually packed with cooking directions right on the front!
The chicken was already prepared so there wasn't a 45-minute cooking time like I thought there would be.  I just placed the chicken, rice, and vegetables in oven-safe dishes and put them in our oven for approximately 15 minutes (the veggies went in for only about 6 minutes).  I was excited about our meal as soon as I removed it from the packaging as it smelled delicious and continued to fill our kitchen with a great smell as it heated up in the oven.  (All of the foods we received could have been warmed in the microwave much faster, but I love oven-cooked foods so I chose to take the longer route in dinner prep.)
Once it was heated, I placed it on plates and served it!  It looked like a meal I would normally spend over an hour between prep and cook time and yet it was finished in about 15 minutes with no mess in my kitchen!
My family loved the meal.  Everything had great flavoring and texture.  I have to admit that I'm a  picky chicken eater, and I was hesitant about the chicken.  I was worried that it would be more like "fake" chicken.  However, it was delicious and completely fresh-tasting chicken that I would have purchased and had to prepare from scratch.   Everything about the meal was exactly as MagicKitchen.com had described:  chef-prepared and fresh!
MagicKitchen.com even included dessert for us:  a super yummy brownie!  Now, I don't know how they read my pregnant-craving mind but I have a huge weakness lately for

brownies.  When my husband pulled our desert out of the fridge after dinner, it seemed hard and I was less-than excited about it, thinking it was not going to hold up to my cravings.  After letting it sit out for about 10 minutes, we gave it a try, and it was the BEST brownie I have had yet during this pregnancy.  It was the perfect consistency of fudge and chocolate and was soft and chewy.  I hate when brownies taste more like cake than a fudge brownie, but this was exactly as I always want my brownies to taste!  It did the trick for sure.  Too bad now I want another one.. and another… and another!
All in all, MagicKitchen.com was such a  great treat for my family.  It was so nice to not spend much time on dinner tonight.  Instead I had plenty of extra time to enjoy my family!
Even if you aren't an expecting mom or new mom, this is a great gift for anyone!  If you have never ordered from them before, be sure to check out their First-Time Customer Discount!