When it comes to dessert everyone's sweet tooth craves something different. Whether you're an ice cream fanatic, a pie fiend or a rich chocolate cake lover we can all appreciate a delicious post-dinner treat. So then why do so many people assume they need to have a cake at their wedding?
For those of you who are looking for a unique dessert to offer your guests at your wedding or those who simply aren't huge cake fans, here are nine delicious alternatives.
1. Croquembouche, Je t'aime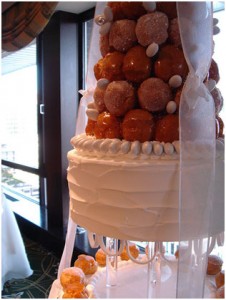 As an avid whipped cream lover, I adore profiteroles and therefore obviously am a huge Croquembouche fan, alternatively called "pièce montée ". This is a much lighter alternative to the classic wedding cake, which works well for anyone wanting to avoid a bloated belly.
In terms of the newly married couple adoringly feeding each other dessert the Croquembouche is dainty and sweet, and the likelihood of spilling crumbs all over you is greatly reduced.
2. Cupcake Collection
Cupcakes are all the rage at the minute; the delicious treats even have multiple Food Network shows dedicated to them. Choosing gourmet cupcakes over one large cake at your wedding means you can go for a variety of flavors, so all of your guests will be sure to find a dessert they can enjoy.
3. Sweet Assortment
Do you have a super sweet tooth? If you'd rather have a chocolate bar or some cotton candy over a piece of cake why not set up a mouth-watering sweet table? Create a mini vintage sweet shop and sprawl your favorite sweets out.
4. Pies Galore
There is a seemingly endless variety of pies that you can whip up for your wedding. Maybe you want to take the season into consideration? If you're planning a summer wedding bring out a lemon meringue or a blueberry pie. For fall try apple or pumpkin. If you're having a winter wedding a rich chocolate pecan pie would be luscious and a strawberry crumble would be a hit in the spring.
5. Pastry Paradise
Éclairs, cannoli, biscotti oh my! Pastries are perfect for weddings and depending on the size of your wedding party, could be cheaper than buying a large cake.
6. Macaroon Swoon
A macaroon cake is another splendid choice for a wedding if you're a fan of less heavy desserts.  Just be sure to have enough for all of your guests!
7. Cheese Mountain
Now here's a trend I wasn't aware of until recently. Apparently many people are having 'cheese cakes' at their weddings, which are simply however many wheels of cheese as you want stacked to mirror a tiered wedding cake. So if you don't have a sweet tooth at all and would rather opt for something a little more savory, why not try a cheese wheel cake and some crackers!
8. Donut Ring
I am incapable of passing a Krispy Kreme without popping in for a glazed donut. If you're like me and love some deep fried dough, why not go for a tastefully decorated donut stand at your wedding?
9. Sundae Love
I scream, you scream, we all scream for ice cream! While you may not want people screaming at your wedding, you do want to delight your guests. Creating an ice cream sundae bar with all kinds of toppings, whipped cream and fudge or chocolate sauce is bound to be a hit with the crowd, especially if you are inviting a lot of kids.
Remember, your big day isn't about how well you can recreate a wedding off the pages of a glossy magazine – it's about celebrating the unique and special love between you and your partner. It should reflect who you two are as a couple, from what dessert you serve to personalized wedding presents, do it your way.
Elise Leveque is a food lover and French bride to be who blogs for Goodheart Gifts  where she finds trendy presents for her special guests!