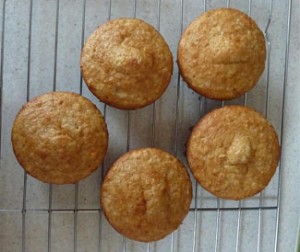 Loved by all,  muffins are loved by kids and adults alike. Traditionally, muffins are usually eaten at breakfast, but this popular snack has evolved and grown in popularity to be enjoyed at any occasion.
Instead of boring old sandwiches, muffins are being packed in school lunches as a tasty alternative. Picnic baskets and coffee tables are now also offering this delicious snack.
This basic muffin recipe is easy to follow and easy to make, but the flavoring possibilities, be it sweet or savory, are endless. Enjoy the experience of experimenting with different flavor combinations. With so many varieties available, you are bound to find something to please everyone.
A basic muffin recipe.
If you are a newbie when it comes to making muffins, then this basic recipe is just the thing to get you started! Once you have successfully baked your first batch, you will have the confidence to experiment with flavors.
Ingredients-makes 12 muffins.
Serves: 12
2 cups all-purpose flour, or 2¼ cups pastry flour, sifted
½ cup granulated sugar
1 Tbsp baking powder
½ tsp salt
1 cup whole milk
1 tsp pure vanilla extract
1 large egg (or 2 medium)
4 Tbsp butter (½ stick) or shortening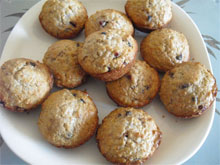 1. Preheat oven to 400° F.
2. Combine the flour, baking powder and salt.
3. Unwrap the butter and heat it in the microwave, in a microwave-safe bowl, for about a minute, until it's thoroughly melted. Set it aside at room temperature to cool, but don't let it solidify again.
4. Beat the eggs in a separate bowl and then add the sugar, milk and vanilla to the eggs.
5. Thoroughly grease and flour a muffin pan (or use paper muffin liners).
6. Pour a tiny bit of the melted butter into the egg-vanilla-milk mixture and stir it in. Repeat 3-4 more times, adding a slightly larger amount of the liquid butter each time until it is all incorporated.
IMPORTANT: Don't add hot melted butter to the egg mixture as the heat from the butter would cook the egg, and that's not what you want to do!
7. Add the liquid ingredients to the dry ones and mix no more than ten seconds. The batter should be visibly lumpy, and you may see pockets of dry flour. That's OK! It's extremely important not to overmix the batter, or the resulting muffins will be too hard.
8. Gently pour the batter into the prepared muffin pan and bake immediately.
TIP: The dry and wet ingredients, respectively, can be mixed in advance, but as soon as the wet and dry ingredients have been combined with each other, the liquid will activate the baking powder and the batter must be baked right away.
Bake 20 minutes or until a toothpick inserted into the center of a muffin comes out clean
Adding some extra ingredients.
Your choice of extra ingredients must be thoroughly mixed into the wet mixture before baking. They should also be prepared beforehand, e.g. grating cheese or chocolate, mashing banana, finely chopping bacon or onion etc. If you find the mix is too thick, add a little milk to get the consistency right.
Some savory suggestions.( If you're making it savory, cut the sugar down to 1/4 cup in the basic muffin recipe.)
•  Cheddar. Grated cheddar cheese, chopped herbs, 1 teaspoon mild mustard, ½ teaspoon black pepper.
•  Cheese and corn. One can of creamed corn, grated cheese, ham slices – chopped and fried if desired.
•  Feta Cheese and black olive
•  Prosciutto and Chives
•  Garlic & Sun-dried Tomatoes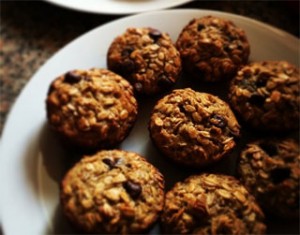 Sweet options.
• Berries. Choose any berries you love!! Popular choices are blueberries and strawberries.
• Banana and bran. Add chocolate chips to banana and bran for something different and healthy.
• Chocolate chips. Add an orange liqueur to chocolate chips for a great taste experience.
• White Chocolate Try some milky, white chocolate chips or butterscotch chips instead of traditional chocolate.
• Nuts. Add a selection of chopped nuts to your mix.
These are just a few suggestions you can try. But the options are endless! Use your imagination to try out any combination that appeals to you!
Heather,  guest Blogger.