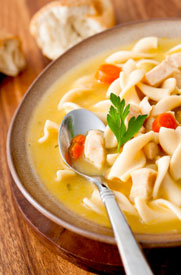 How do you keep your meals fresh and frozen?
We cook our meals in small batches and we flash freeze them right away to avoid using preservatives. To keep them frozen during their transition from our warehouse to their new home we package the meals inside a Styrofoam cooler with enough dry ice to assure the meals to be frozen upon arrival.
Can we use more than one discount / Promo code at the same time?
Our system will only take one.
What happens if the receiver is not home?
If the FedEx driver feels it's safe to leave the package out in front of the door, the driver will leave it. The meals will be in good condition as long as the recipient comes back later that day and stores the meals on the freezer.
Why are the Meal Packs on the Special Diet Menu on more than one menu?
We like to give our customer selections/options. Of course the Renal and Dialysis meals have a closer look  due to certain restrictions such as having to monitor the potassium, phosphorus, protein. They fall under the other categories/options because their nutritionals are monitored in a similar way.
How do your meal programs work?
If you are looking for an automatic shipment we will need a credit card on file, what meals you prefer or don't prefer (Fish, No Fish etc ), how often you would like to get your meals (once a week, once every other week or once a month) and how many of them. We have no fees, and meals can be changed or cancelled at any time. For regular orders placed every 30 days or less and at $125 or more, delivery is free.
I'm trying to use a promo code for free shipping but it's not going through?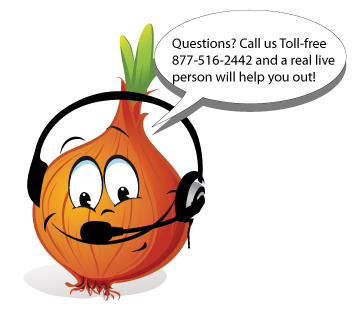 Four possible reasons:
The promo code is expired.
If the promo code states free shipping on orders of $80 or more and the price is 79.99 our system won't recognize 79.99 as $80.
If one of your items is from the Special Deals menu, that item won't count towards the total.
No free shipping to Hawaii and Alaska because it's not ground.
Would it be possible to get meals that are both renal and diabetic friendly?
It is definitely possible to get meals that are both renal and diabetic. The menu that I would recommend would be the renal menu. We alternate some of our renal meals into the diabetic menu just because they are monitored the same way as diabetic meals with low sugar and low sodium except that on renal we more closely monitor the potassium, protein and phosphorus. You will see some of our renal meals in the diabetic menu, but not all the diabetic meals on the renal menu, just because some diabetic meals may be high in potassium, protein and phosphorus.
Do you ship outside of United States /Internationally/ Puerto Rico?
Due to other countries having certain regulations we aren't able to deliver our meals outside of the United States beside Hawaii and Alaska . The shipping cost for Hawaii and Alaska might be a little on the high side since we have to ship them on a plane, but its definitely possible.
I live outside of the United States and I'm trying to place an order for someone who lives in the United States, but I'm not able to place the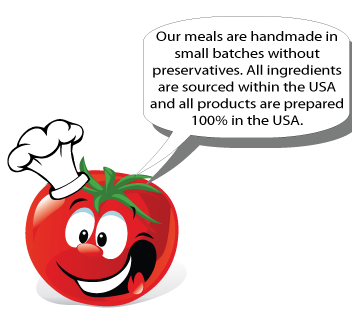 order online?
Due to our high security system our system won't allow you to place the order online however you may place your order over the phone. The number for international calls is 650-941-2260. You may also email us the list of the items you want and in separate emails send us your credit card information. (Credit card number in one email, your address and CSV number in a separate email for security)
Where are your meals prepared?
We have  individual kitchens in California.
Do you use organic products or ingredients?
We try working closely with organic ingredients but since some of our products are in demand we have to use the ingredients that are available to us.
Are there any antibiotics in the chicken products, or any hormones in the beef products?
No antibiotics in our chickens and no hormones in our beef products.