Taking a trip to the store without a plan can be a disaster. It's a good way to blow your budget. And it's all too easy to toss unhealthy foods into your cart and be on your way. But if you're trying to control your blood pressure and protect your heart, you've got to stick to a low-sodium diet.
Eating less sodium is a good idea for most people. Most adults eat an estimated 3,500 mg of sodium a day, mostly from processed foods. Yet, the American Heart Association recommends most people eat no more than 1,500 mg of sodium per day.
So what can you do about it?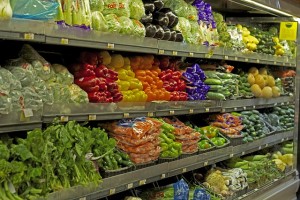 Read food labels. You might be surprised to find that common foods like canned soups, canned meats, breads, and frozen pizzas all contain high levels of sodium. Look for low-sodium options. And instead of seasoning foods with salt, try adding flavor to your favorite foods with herbs and spices or a prepared sodium-free seasoning like Mrs. Dash®.
Buy more fruits and vegetables. No, not the canned variety, or the ones added to a sodium-lathered stir-fry from your favorite take-out. Fresh fruits and vegetables contain little to no sodium. Add potassium-rich fruits and vegetables to your diet like bananas, oranges, potatoes, and tomatoes, and they'll help rid your body of excess sodium.
Choose fat-free dairy products. Cheese is one of the big offenders when it comes to excess sodium in your diet. Pay attention to the type of dairy products you buy at the store. Choose low-fat and low-sodium options.
Get Unsalted Nuts. Nuts are a good source of protein and healthy fat. But if you munch the salted variety, there's a good chance you're getting too much sodium in your diet. Fortunately, most nuts are available salted and unsalted. Go with the unsalted kind. You might have to get used to a slightly different taste at first, but you'll learn to enjoy it and be healthier.
Choose whole grains. Whole–grain breads, pasta, brown rice, and cereals, are generally lower in sodium than their counterparts made with refined grains.
If you're not all that keen on refining your grocery shopping game plan to buy low-sodium foods, don't worry. At MagicKitchen.com, we've made it easy for you to enjoy low-sodium foods for breakfast lunch and dinner. You'll enjoy meals like Grilled Chicken with Florentine Rice, Asparagus & Carrots, Lemon Rosemary Pork with Savory Rice and Glazed Carrots, and Turkey Meatloaf Rice Pilaf & Zucchini Saute. Hungry? Check out all our Low-Sodium meals here.
Check out this informational video!
Here are some other low sodium articles you might enjoy.
Dark Chocolate Good for the Heart?
Sandwiches Hidden Source of Too Much Sodium
Health Benefits of Black Beans
Salt Affects more than just Blood Pressure
High Potassium More Important than Low Salt in Heart Healthy Diet?