Are you planning a themed  party this summer? Here are some of the best flavors from around the world.
There is something very satisfying about preparing a scrumptious spread for your nearest and dearest. I love cooking and if I have friends and family over, I like to get a bit adventurous in the kitchen.
Buffets are great for large parties because it easy for the chef (you!) as you prepare a lot of it in advance. Your guests will love it too, as they can just pick whatever they like and mix and match your delish flavors.
Here are five mouth-watering culinary combinations, which will create the perfect buffet:
Mexican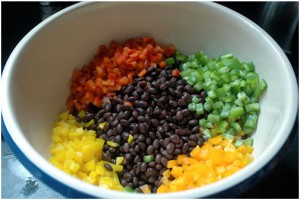 Image by beccapie
Mexican cuisine is colorful, spicy and lively so this is what you should be aiming for with your buffet. Mexican food needs to have a real kick, yet a fresh and juicy feel – this taste is usually achieved with the winning combo of lime and chili.
Spicy chicken, jalapeno and mango salad is great dish to share and has all the flavors that makes Mexican cuisine stand out. Combine this with spicy fried potatoes and sour cream dip – always a favorite at buffets.
A bean salad is another tasty and nutritious side dish, perfect for a Mexican buffet. In the image to your left you can see a great serving suggestion idea – separating out the vibrant peppers creates a colorful display.
For dessert, you could also try and make some chili chocolate cookies – these are gooey and chocolaty yet have that Mexican kick.
Try arranging the food on a brightly colored tablecloth or in bold, vibrant bowls. Decorate the table with tropical fruits – pineapples and oranges will add a splash of tropical color to your buffet.
Serve with fruit juice or Mexican beer for the perfect party.
Indian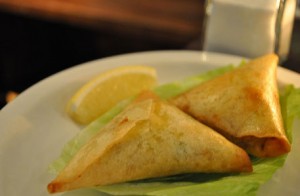 Image by London Chow
An indulgent Indian curry is one of life's treats! Indian food is rich in flavor and can be spicy, creamy or herby. Coconut, chili and coriander are classic Indian ingredients and adding any of these to your dishes will give them a real burst of flavor.
Tasty spiced rice makes an excellent base dish at an Indian buffet – pretty much everyone likes it and it goes well with all the extras! Include things like onion bhajis, samosas, mango chutney and a mint yoghurt dip.
Other great dishes I would include are a spiced vegetable dish (just roast a selection of vegetables in olive oil and spices) and dhal, a spiced lentil side dish.
Decorate the table with fresh spices, fruit (which can also be eaten for dessert) and lanterns. Serve with fruit juice or Indian beer like Kingfisher or Haywards.
Italian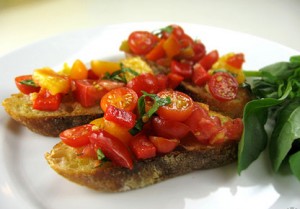 Image by SummerTomato
Italian is one of the world's most popular cuisines and it makes me think of sun-ripened tomatoes, creamy mozzarella and fresh basil. Although Italian cuisine may be famous for pizza and pasta, the latter doesn't work too well on a buffet, so here are some great Italian ideas…
Mini pizzas work perfectly for a buffet and you can try all sorts of combinations like spinach and ricotta, feta and artichoke and of course the classic pepperoni.
Other dishes that work well are tomato and basil tart, focaccia, bruschetta and side dishes of roasted Mediterranean vegetables and an Italian leaf salad, drizzled in a pesto dressing.
To decorate, try using the colors of the Italian flag and you could even make your own leaning tower of 'pizza'.
Serve with red or white wine and have some creamy Italian gelatto for dessert.
Spanish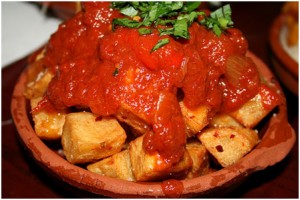 Image by Raelene G
Spain is a vibrant, colorful country and the cuisine reflects this. Spanish cuisine has a spicy flavor, a rich tomato tang, smoky paprika, as well as a herb-y kick.
A classic Spanish dish, which works perfectly at a buffet, is paella. This delicious rice dish can be adapted to suit your tastes – from vegetables to seafood to chicken, or a bit of everything.
Serve this with patatas bravas – the tasty potato and salsa dish pictured above, garlic prawns with sherry dip and a chorizo and egg salad.  Another great idea is to have little cups of the cold Spanish soup, gazpacho.
Decorate the table with citrus fruits to add to that fresh, Mediterranean feel. And, since sherry originates from Adalucia, Spain – why not have a glass with the buffet, or even fruity cocktails?
Japanese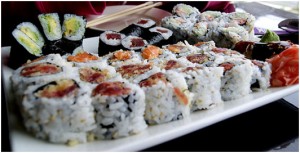 Image by VoixMarionette
Japanese cuisine is delicate and beautiful to look at – as well as packed with flavor. Whenever I think of Japanese cuisine, I can see neat displays of sushi, beautifully crafted chop sticks and bubbling miso soup.
If you are planning a Japanese buffet, then you have to include some kind of sushi, whether it's vegetarian or the traditional raw fish. I would recommend smoked salmon and avocado sushi as this is particularly tasty and looks great.
Serve with a Japanese salad of lettuce, radish, soya bean and carrot, with ginger soy dressing and add a chili green salad for a spicy kick. You could also make a batch of miso soup and serve it in little cups for each guest.
For dessert, try frozen green tea yoghurt ice cream. Not only is this a healthy alternative to normal ice cream but the green tea give a fresh, unusual and distinctly Japanese flavor.
Decorate the table with chop sticks and origami creations and you'll have the perfect Japanese buffet spread. Serve with the Japanese rice wine, Sake.
So what are you waiting for? Throw a catering table cloth over your dining table and start cooking and decorating – before you know it, you'll have a delicious and beautiful themed buffet.
Do you know of any great buffet ideas? Share your thoughts below.
Bio: Elise Leveque is a blogger and freelance translator who loves to write about anything from social media to food. She loves to try new recipes, throw adventurous dinner parties and prepare buffets and exciting party food nibbles.